Pool Safety in Ipswich
Drowning is one of the leading causes of death in Queensland for children under five. Compliant pool fencing, active supervision and swimming lessons can save lives.
New pool safety laws were implemented on 1 December 2015, which require all regulated Queensland swimming pools to meet the single swimming pool barrier standard. Fines from $800 apply to owners of pool fences that do not meet this standard.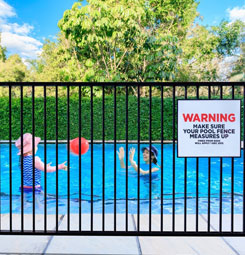 Although changes from pre-existing Ipswich City Council laws are minimal, you may be affected by the following requirements:
Prohibiting direct access from a building into the pool area;
Installing a compliant CPR sign;
Shielding or moving climbable objects that are near the barrier;
Raising panels to increase the height of the pool fence to at least 1200mm, or reducing any gaps in or under the fence that are greater than 100mm.
The standard applies to new and existing pools in houses, unit complexes, hotels, motels, backpacker accommodation, caravan parks and mobile van parks.
For Swimming Pool/Spa Owners in Ipswich
Further information for swimming pool owners is available on the Queensland Building and Construction Commission website at www.qbcc.qld.gov.au. This site has tips and diagrams to help home owners assess their pool for compliance. Pool owners can complete a free self-assessment using the simple checklist at qbcc.qld.gov.au/pool-checklist to easily determine if their pool/spa fencing is compliant. In addition, the site provides access to licensed pool safety inspectors. Since November 2011, it has been a requirement for pool owners to register their pool, so the website can also be utilised to check pool registration.
NOTE: Pool owners do not need to obtain a pool safety certificate unless they sell or lease their home.
For Ipswich residents with concerns about a neighbouring swimming pool or spa
Refer to the QBCC website for further information and advice at www.qbcc.qld.gov.au.
Note: if you chose to seek advice from the QBCC but are still unsure whether a neighbouring pool is compliant after receiving this advice, please contact Council to conduct an inspection.
Residents wishing to lodge a complaint about a swimming pool can contact Ipswich City Council to voice their concerns about the swimming pool barrier.
Council investigates all regulated swimming pool complaints including:
Portable/temporary above ground swimming pools and spas with a depth greater than 300mm;
All permanent swimming pools and spas (in ground and above ground) on residential land;
Immersion incidents that occur in regulated swimming pools;
The following information will be useful when you are raising pool barrier concerns with Council staff:
Property location of the swimming pool/spa;
Depth of the swimming pool/spa;
Whether the swimming pool/spa currently holds water to a depth of greater than 300mm;
Concerns regarding the pool/spa barrier.
If a resident lodges a complaint with Council, a compliance officer trained in swimming pool barrier safety will inspect the swimming pool. If any serious breaches of the new standard are identified, the pool owner will receive an Enforcement Notice and may also receive an on-the-spot infringement.
Non-compliance with the pool safety standard can result in penalties of over $19,000, while failing to register a pool with the QBCC can result in penalties of over $2,000.