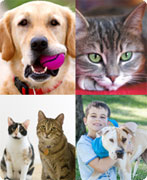 Ipswich City Council has developed a Registration Rewards Program to reward dog owners and thank them for being responsible pet owners. The program includes over $2,000 worth of value and every registered dog in Ipswich will receive a brochure each financial year.
Message from Committee Chairperson
The Registration Rewards Program is an initiative of Ipswich City Council to reward responsible pet owners; to thank and recognise them for registering their pets. Now it its fourth year, the program continues to expand and offers great rewards, with over $2,000 in vouchers included in the program's booklet.
Part of Council's vision is 'to plan for a future that includes cats and dogs as valued members of the community'. We are grateful to the businesses getting behind this program by providing Ipswich residents and their registered pets with great rewards on their products and services. For the first time, we are also offering responsible pet owners discount vouchers to participating local cinemas.
Your pet's health and wellbeing in particular are being recognised with great incentives for vaccination, desexing, training and dental care. Desexing, along with behaviour training, is a great way to ensure your pet is happy and content, less prone to wander or roam and has reduced tendencies towards any possible aggression.
The booklet also contains more useful information on the care, health and wellbeing of your pet.
Registration fees assist with the cost of animal management services across the city, with a team of specialist animal management officers who are always willing to offer advice and assistance.
Registration and microchipping are the best ways to ensure your much loved pet can be identified and promptly returned to you if they wander off or become lost.
Remember your pet is for life – let's keep the family together!
Cr Andrew Antoniolli
Health and Community Safety
Committee Chairperson
Current Participating Businesses
BCC Cinemas

Corner Brisbane & Ellenborough Streets, Ipswich
Phone: (07) 3281 8887
Web: www.birch.com.au
Little Critters Peterinary Care

Unit 9, 19 Mining Street, Bundamba
Phone: (07) 3816 0210
Web: www.lcpc.com.au
Terms and Conditions
Council is only facilitating the process between pet owners and businesses.
If there is an issue with the discount arrangement and businesses honouring that arrangement, it is not an issue for Council - it is between the businesses and their customers.
Dog registration is a statutory requirement and not a contractual arrangement between Council and its customers.
Vouchers are only to be used once. Only one voucher per customer can be used. Not to be used in conjunction with any other offer.
Customers may need to provide proof of registration when redeeming a discount.
The vouchers in the program's booklet are valid only until their date of expiry and must be surrendered to redeem the discount.
For Businesses
Over 27 local businesses are part of the 2016-17 Registration Rewards Program. The pilot program ran from January to June 2013 and the first official year of the program ran from June 2013 to June 2014.
Download the Rewards Recognition Pilot Program Summary (PDF, 622 kb)
Registration Rewards Program 2017-18
If your business would like to participate in the next program, please submit the online Registration Rewards Program Expression of Interest and we will be in touch shortly.
Testimonials
"What a great idea the council's pet rewards program is. It's nice to have something positive done for dogs and their owners for a change. Whoever it was that came up with this idea deserves an award themself. My thanks go out to the council staff, Kelly and others for the friendly, professional way they have behaved in all my dealings involving the rewards program."
- Andy Lea, The Dogman, West Ipswich (published Queensland Times 25 September 2013)
"We are thrilled to affiliate our services with the rewards program, knowing we share a common goal to improve responsible pet ownership. We are passionate about educating owners to care for their pets in the best possible way - and how better to do so than use the rewards program vouchers. We look forward to the next year of the program and congratulate Ipswich residents on showing such care for their pets."
- Sally Kenny, GM Marketing Greencross Vets