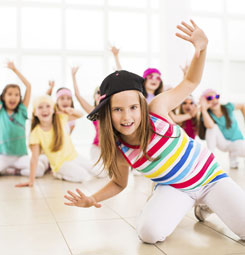 The Active Breaks program is back again for Easter 2016!
A free physical activity program for Ipswich kids aged 5+. Come and join the fun with free games of soccer, rugby, cricket, and hockey - or learn some new techniques in our circus skills, dance and cheerleading activities.
No need to book, just turn up and look for the Ipswich City Council flags.
View the listed activities on offer or download the full schedule of activities below:
Active Break Schedule Easter 2016
For more information, please phone Council on (07) 3810 6666.
Week 1 Active Breaks Program
Tuesday 29 March
Football
10.00 am – 11.00 am
Alan Cumming Park, 54 The Terrace, North Ipswich
Mighty Multi Sports
11.00 am – 12.00 pm
Alan Cumming Park, 54 The Terrace, North Ipswich
Netball
1.30 pm – 2.30 pm
Limestone Park (Netball Courts), 42A Chermside Road, Ipswich
Cheerleading
2.30 pm – 3.30 pm
Limestone Park, 42A Chermside Road, Ipswich
Wednesday 30 March
Circus Skills
9.00 am – 10.00 am
Bob Gibbs, 40-60 Springfield Parkway, Springfield
Dance
10.00 am – 11.00 am
Bob Gibbs, 40-60 Springfield Parkway, Springfield
Thursday 31March
Athletics
9.00 am – 10.00 am
Evan Marginson Park, 6 Layard Street, Goodna
Ball Games
10.00 am – 11.00 am
Evan Marginson Park, 6 Layard Street, Goodna
Dodgeball Mayhem
1.00 pm – 2.00 pm
Jim Finnimore, 1C Old Toowoomba Rd, Leichhardt
Mighty Multi Sports
2.00 pm – 3.00 pm
Jim Finnimore, 1C Old Toowoomba Rd, Leichhardt
Friday 1 April
Soccer
1.00 pm – 2.00 pm
Tivoli Sporting Complex, 69 Church Street, Tivoli
Touch Rugby
2.00 pm – 3.00 pm
Tivoli Sporting Complex, 69 Church Street, Tivoli
Week 2: Active Breaks Program
Monday 4 April
Dodgeball Mayhem
9.00 am – 10.00 am
Camira Recreation Reserve, 74 Moss Road, Camira
Mighty Multi Sports
10.00 am – 11.00 am
Camira Recreation Reserve, 74 Moss Road, Camira
Cheerleading for Beginners
2.00 pm – 3.00 pm
Worley Park, 58 Harding Street, Raceview
Hockey
3.00 pm – 4.00 pm
Worley Park, 58 Harding Street, Raceview
Tuesday 5 April
Cricket
10.00 am – 11.00 am
Limestone Park, 42A Chermside Road, Ipswich (Oval A)
Athletics
11.00 am – 12.00 pm
Limestone Park, 42A Chermside Road, Ipswich (Oval A)
Circus Skills
1.00 am – 2.00 pm
Limestone Park, 42A Chermside Road, Ipswich (Oval A)
Mighty Multi Sports
2.00 pm – 3.00 pm
Limestone Park, 42A Chermside Road, Ipswich (Oval A)
Wednesday 6 April
Touch Rugby
10.00 am – 11.00 am
Jim Finnimore, 1C Old Toowoomba Rd, Leichhardt
Soccer
11.00 am – 12.00 pm
Jim Finnimore, 1C Old Toowoomba Rd, Leichhart
Thursday 7 April
Cheerleading for Beginners
9.00 am – 10.00 am
Grande Park, 40 Grande Avenue, Springfield Lakes
Tennis
10.00 am – 11.00 am
Grande Park, 40 Grande Avenue, Springfield Lakes
Friday 8 April
Mighty Multi Sports
1.00 pm – 3.00 pm
Suttons Park, 61 Workshops Street, Brassall