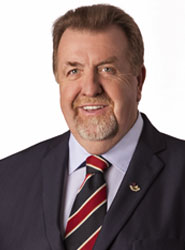 Media Images
Contact Details
Tel
(07) 3818 6900
Fax
(07) 3818 1099
Email
ptully@ipswich.qld.gov.au
Connect
Facebook
Postal Address
Cr Paul Tully
PO Box 1
Goodna QLD 4300
Electorate Office
18 Queen Street
Goodna QLD 4300
Office Hours
Monday - Friday:
9.00am - 12.30pm
1.30pm - 4.00pm
Register of Interests
View
Paul Tully represents Division 2 of the City of Ipswich.

Division 2 is 25.99 square km in area and comprises the suburbs of Augustine Heights, Bellbird Park, Gailes, Goodna and Redbank, all part of the Greater Goodna area.
Cr Tully was first elected on 31 March 1979 as the youngest Councillor of the Ipswich City Council since its proclamation in 1860 and is the longest-serving Councillor in the city's history.
Cr Tully was re-elected in 2016 in Division 2 with 82.5% of the vote, having successfully contested 12 consecutive elections.

He is Queensland's longest-serving Councillor with 37 years' service to the Ipswich community.

In 2007, Cr Tully eclipsed the record of his great uncle Alderman Alfred Tully Stephenson who had been Ipswich's previous longest-serving municipal representative over a 28-year period from 1910-1938.
Cr Tully holds a Law degree from The University of Queensland. He is a registered Australian Migration Agent and is a Justice of the Peace (Qualified).

He lives locally in Division 2 with his wife Liza and their two children.

For regular local news updates, go to Division 2 News - Councillor Paul Tully.

Cr Paul Tully's other websites include:
Queensland Consumer Watch

LIVE IMAGE OF THE IPSWICH MOTORWAY AT GOODNA, UPDATED EVERY 60 SECONDS: CLICK HERE
IPSWICH CITY COUNCIL ONLINE PROPERTY SEARCHES AND DEVELOPMENT APPLICATION TRACKING: CLICK HERE