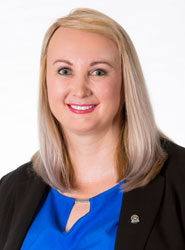 Media Images
Contact Details
Phone

(07) 3810 6556

Fax

(07) 3813 0655

Email
Postal Address

PO Box 5072
Brassall Qld 4305

Electorate Office

Shop 38A, Brassall Shopping Centre
68 Hunter Street
Brassall Qld 4305

Office Hours

Monday - Thursday:
8.30 am - 12.00 pm
1.00 pm - 4.00 pm

Friday:
8.30 am - 12.00 pm
1.00 pm - 3.00 pm

Register of Interests
View
Councillor Bromage was elected in 2004 and is the youngest female ever elected to Ipswich City Council. She is the Chairperson of the Infrastructure and Emergency Management Committee, as well as Deputy Chairperson of the Conservation and Environment Committee. She is a member of the Works, Parks and Sport Committee, Audit and Risk Management Committee, Specific Purposes Committee, City Management, Finance & Community Engagement Committee.
Councillor Bromage is also a representative for Ipswich City Council on the Ipswich District Disaster Management Group, Deputy Chairperson of the Local Disaster Management Group, Chairperson of the Parking Taskforce, Chairperson of the Scenic Valley Regional Road and Transport Group (SV RRTG), Amberley Defence Support Group – Project Control Group, Ipswich Rural Fire Levy Committee, and Safe City Steering Committee.
Councillor Bromage actively supports the efforts of many local community groups, school and sporting clubs, as well as the army of volunteers that are dedicated to supporting them. As well as being the Patron or a member of numerous community organisations, Councillor Bromage has been a volunteer for many organisations, clubs and charities. She is also actively involved in many local community, sporting and cultural groups within the City, including but not limited to: Life Member Ipswich Show Society, Ipswich Woodcrafters, Ipswich City Rotary Club, Honorary North Ipswich Scout and the Tzu Chi Foundation.
Councillor Bromage is dedicated to making Ipswich a city for families, lifestyle and business, where people matter and where people can live, work and play. She believes that Ipswich is ideally positioned within South East Queensland's growth corridor to attract the investment needed to create local jobs that are necessary for our current and future residents and their children.
Councillor Bromage is a sixth generation Ipswich resident and is proud to call this city her home.