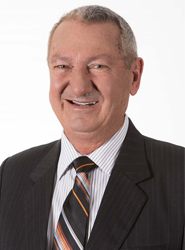 Media Images
Contact Details
Phone

(07) 3282 9600

Mobile

0419 812 146

Email
Facebook
Click
Postal Address

Leichhardt Village Court
Cnr Samford and Toongarra roads
Leichhardt Qld 4305

Electorate Office

Leichhardt Village Court
Cnr Samford and Toongarra roads
Leichhardt Qld 4305

Office Hours

Monday - Friday
8.30 am - 12.00 pm
1.00 pm - 4.00 pm

Register of Interests
View
Councillor Charlie Pisasale was first elected in 1995 as the Councillor for Division 11. He was re-elected in 2000 and 2004 for Division 8, reinstated unopposed in 2008 and 2012 and re-elected in 2016. His current Division 8 encompasses Amberley, Churchill, Deebing Heights, Flinders View, Goolman, Leichhardt, One Mile, Peak Crossing, Raceview, Ripley, South Ripley, Wulkuraka and Yamanto.
Cr Pisasale is Chairperson of the Employee Development Advisory Committee, and the Deputy Chair of the Arts and Community Development Committee. He is also a member of the following formal Ipswich City Council Committees and Boards:
Libraries and Tourism
Health, Security and Community Safety
City Management, Finance and Community Engagement
Specific Purpose
Over the years Councillor Pisasale has become involved in many other local groups and committees. He is also a Commissioner for Declarations (C.Dec).