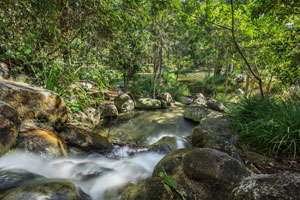 Ipswich boasts a wealth of waterways, creeks and catchments, with both the Bremer and Brisbane rivers flowing through the city and along the northern boundary. Well-kept waterways provide habitat vital to local fauna and flora and abundant recreational activities, such as fishing, paddling, swimming and walking, to community members and visitors to the city.
Ensuring our waterways are clean, pristine, healthy and recreationally accessible to residents is an important part of the Beautiful Ipswich initiative. Along with actioning a variety of strategic waterway, catchment and creek corridor plans, Ipswich City Council's Waterway Health Strategy clearly sets out the direction and vision for continually improved waterway management.
Council welcomes community consultation and involvement when it comes to maintaining beautiful waterways and residents are actively encouraged to take part in a range of waterway improvement initiatives. These include tree planting and waterway clean-up days designed to improve the water quality of our waterways and the habitat of native fauna and flora.
For more information about getting involved in improving our waterways, visit Council's Habitat Connections webpage.