Depending on the number and type of animals you wish to keep in Ipswich, you may require a permit. Permits are issued by Council to ensure animals are managed appropriately and responsibly, for the benefit of the animals, owners and the wider community. Permits and/or licences allow the ownership and management of the animal to be registered with Council to assist Council's civic obligation to the Ipswich community in the promotion of residential health, well-being and environmental responsibility.
Types of permits
Permits required for keeping animals
See our Quick Reference guide for a list of permit/licence requirements for keeping animals in Ipswich. Prior to making application, Planning and Development assessment is required for all commercial activities (this is any activity other than domestic - may include large scale hobbies), a Commercial Kennel Licence, Commercial Cattery Licence or Commercial Stable Licence, any Non-Standard Permit for cats or birds or the keeping of any animals under the Other Animals section.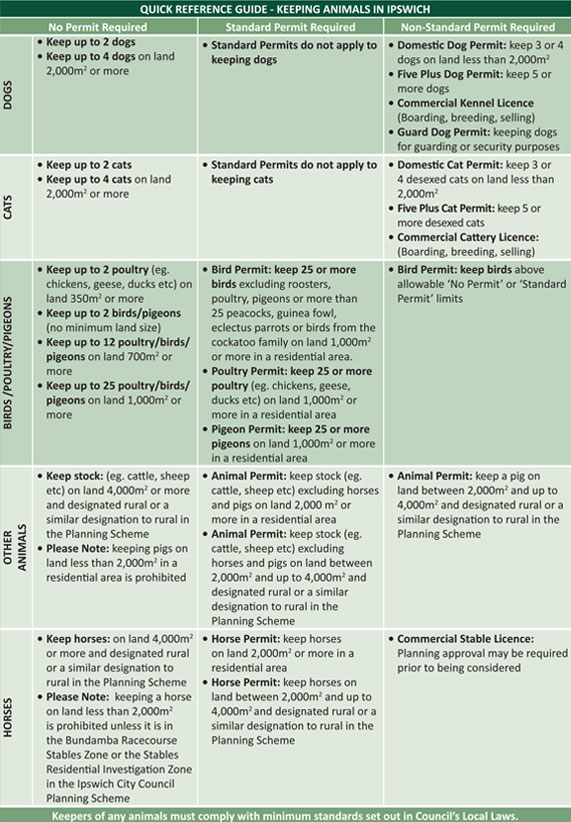 Permit application forms
Pet Shop Permit
Local laws
Copies of the Local Laws are also available for purchase from the cashiers counter located in Council's Administration Building, 45 Roderick Street or Customer Service Contact Centre, 143 Brisbane Street, Ipswich (Top of the Ipswich Ciyt Mall).
More information