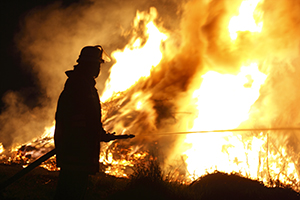 Research shows that more people die in house fires between June and September than any other time of the year. In bushfires, radiant heat, dehydration and asphyxiation are the main killers.You can reduce the risk to you and your loved ones by learning about home fire risks and prevention. Well-prepared houses resist brief exposure to flames, protecting occupants who may save their homes. Below are some strategies that you can take to prepare your home and yourself from bushfires.
Prevent and prepare before the bushfire season
If possible, make a firebreak around your home using mower, spade or rake. Trim branches well clear of the house and clear roof and gutters of leaves and twigs.
Remove all rubbish, leaf litter and native shrubs growing too close to house and keep grass short and green.
Fit wire screens to doors, windows and vents to enclose all gaps, roof eaves and the area under your house.
Keep a ladder handy for roof access (inside and out) and fit hoses to reach all parts of the house and garden. If water is not connected, obtain a high pressure pump.
Store wood, fuel and paints well clear of the house.
Check you have adequate insurance cover for bushfire.
Decide on a household plan to either leave early or stay to protect your home during a bushfire (see below).
What to do when bushfire approaches
Leave or protect: if you prepared your home prior to a bushfire, unless you decide to leave early or are ordered by authorities to do so, stay in the house and take the additional precautions listed below.
Phone the bushfire brigade - don't assume they know.
Turn off gas and power.
Close all external windows and doors and block gaps from inside with wet towels.
Fill baths, sinks, buckets with reserve water.
Plug downpipes with rags and fill gutters with water.
Move curtains and furniture away from windows.
Wear long woollen or heavy cotton clothing, solid boots or shoes, hat or woollen balaclava and gloves.
Hose down walls, garden, etc. on sides facing the fire and watch for spot fires from flying sparks or embers.
When the main fire-front arrives get inside and keep away from windows while it passes (usually 5 to 15 minutes).
Quickly extinguish any fires which may have started in, near, or under the house or roof and check inside roof as well.
If the house is alight and can't be extinguished, move away onto burnt ground, but don't leave - wait for help.
Listen to a battery-operated radio for official local information.
Driving during a bushfire
Don't drive into or near bushfires - if caught in a bushfire don't drive through flames or thick smoke.
Stop at a clearing or roadside in a low vegetation area. Turn ignition off, and hazard lights and headlights on.
Stay inside unless near safe shelter. Keep vents, windows and doors closed. Lie inside, below window level, under a woollen blanket until fire-front passes.
After the main fire-front passes, if heat or fumes inside become severe get out and move to already burnt ground, keeping your whole body covered.
The petrol tank is unlikely to explode in the period you need to stay in the car while being shielded from the deadly radiant heat of the fire-front.
Walking during a bushfire
Don't panic - cover all exposed skin.
Move across-slope, away from the fire-front, then down-slope towards the rear of the main fire.
Find open or already burnt ground. Don't try to out-run fire, go uphill, or walk through even low flames unless you can clearly see a safe area close by.
If you can't avoid the fire, lie face down under a bank, rock, loose earth, in a hollow or if possible get into a dam or stream, but not a water tank.
Emergency survival requirements
The Queensland State Emergency Service (SES) advises that, if faced with the dangers of radiant heat from flames, body dehydration and smoke inhalation, emergency protection is possible, even in high intensity fires:
Wrap yourself in a heavy, pure wool blanket
Carry a flask of water to drink
Moisten a blanket corner as a smoke mask
More information
Emergency Management Dashboard
Emergency Procedures
Disaster Management Plan and Factsheets
Queensland Fire and Emergency Services
Council Bushland Fire Management