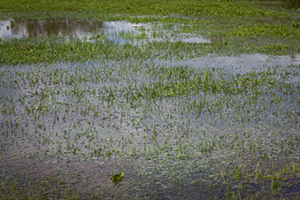 If your property is located in an area prone to overland flow it could run the risk of being inundated with water during storm season and periods of heavy rainfall.
What is overland flow?
Overland flow is surface water resulting from rainfall which can cause flooding of properties and houses if not properly managed. It is the responsibility of the homeowner to put sufficient measures in place on their property if it is located in an overland flow path.
Check your property
To find out whether your property is located in an area prone to overland flow, use the flood map information tool on Council's Planning and Development website.
Why is it important?
Ipswich is prone to bursts of intense rainfall which causes significant amounts of surface water. This surface water will naturally concentrate and flow downhill. Where a piped drainage system is unavailable or unable to cope, the resulting surface water (overland flow) takes its natural course downhill, often across private property.
Managing overland flow
Overland flow is a natural occurrence and can be effectively managed across private property by following some simple guidelines:
Managing Overland Flow Factsheet %asset_summary_88179
Are you flood ready in Ipswich?