Queens Park contains significant cultural heritage values not only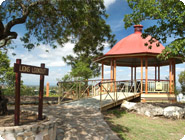 for Ipswich but for Queensland.
Queens Park was the first park to be developed in Queensland, first being surveyed in 1842. Its original architectural design dates back to 1862 and is perhaps Ipswich's most well know landmark. Visitors to the park will experience old world charm with modern day conveniences.
With its close proximity to the Ipswich city centre, Queens Park allows easy access to shady gardens and a relaxing lunch time outing.
Features of the park include extensive formalised garden beds, Nerima Gardens (a Japanese-styled garden), the Ipswich Nature Centre, children's play facilities, Bush House, Bush Chapel, Queens Park Croquet Hall, several sporting clubs, cafe and Environmental Education Centre.
Queens Park Map (PDF, 1.3 MB)
Queens Park Brochure (PDF, 1.8 MB)
Ipswich Nature Centre
Visit the Ipswich Nature Centre page for more information.
Nerima Gardens
Visit the Nerima Gardens page for more information.
Queens Park Croquet Hall
Visit the Queens Park Croquet Hall page for more information.
Queens Park Nursery
See opening times below and more information on the nursery, free plants and planting on Council's Gardening webpage.
Queens Park Environmental Education Centre
The Queens Park Environmental Education Centre is housed next to the brand new cafe in the centre of the city's premier parkland. This fantastic new facility provides a large conference room and environmental education exhibit. The display showcases Ipswich's unique natural environment and waterways. There is also an extensive array of information about Council's environmental initiatives, including:
how to reduce, reuse and recycle household waste
what you can place in your compost bin or worm farm
some handy household tips to reduce your carbon footprint
where you can go to explore the great outdoors on foot, pushbike or horseback
what are the benefits of becoming a voluntary conservation partner, or
how we can all improve our waterways
Nestled among the prominent fig trees, the building itself is a great example to residents of environmental design features. Passive solar design and energy efficient measures make the most of natural lighting Insulation, large overhangs and wide verandas provide protection from the western sun, reducing the reliance on air conditioning. The elevated structure allows for natural airflow and free water movement across the site. You can also check out the GreenWall, a vertical planting of ferns and native crows nests.
Opening Times
Queens Park Environmental Education Centre

Address

Queens Park
Merle Finimore Avenue
Ipswich

Cost

Free entry

Opening Hours

Open 7 days - 9.30 am - 4.00 pm (Excluding Public Holidays)

Public Holidays

Closed Christmas Day, Boxing Day and Good Friday
All other Public Holidays - 10.00 am - 3.00 pm

Queens Park Nursery:

Wednesday to Thursday: 7.30 am - 12 pm / 12.30 pm - 3.00 pm
Saturday: 8.00 am - 12 pm
Public Holidays: closed

Enquiries

(07) 3810 6666

Conference Room
Bookings

A bond and key deposit are required