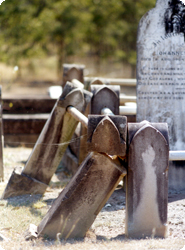 On 5 September 2011 Ipswich City Council entered an agreement with Norwood Park Limited, trading as Ipswich Cemeteries, to provide deathcare services for Warrill Park Lawn, Ipswich General, Stone Quarry, Tallegalla and Haigslea Cemeteries.
All burials, ashes placements and plaque enquiries should be directed to Ipswich Cemeteries at Warrill Park Lawn Cemetery on (07) 5464 3145. For more information, visit www.ipswichcemeteries.com.au.
All cemeteries are open to the public from sunrise to sunset and are locked outside of these hours.
Warrill Park Lawn Cemetery is entirely a lawn cemetery and is the main cemetery in use.
The Ipswich General Cemetery is a historic, monumental cemetery closed to new burials. There are a limited number of reserve and family plot burials still taking place.
Tallegalla, Stone Quarry and Haigslea Cemeteries are also of historical significance, comprising of both monumental and lawn burial areas. Their rural location provides a peaceful and scenic setting.
Ipswich Cemeteries offer various services relating to these cemeteries including:
Searches - assistance with the location and details of family burials.
Plaques - approved plaques may be ordered through Ipswich Cemeteries.
Reservations - reserve cemetery plots, niches and memorial garden positions in selected cemeteries. (Not all cemeteries have all of these options available.)
Vases
A maximum of two vases are allowed on each grave. These vases cannot be made of breakable material (such as glass or ceramic). A selection of cast bronze and stainless steel vases are available for viewing and purchase at Warrill Park Lawn Cemetery.
Plastic vases are available free of charge at Warrill Park Lawn Cemetery.
Placement of Flowers
Fresh flowers are permitted to be placed.
The placement of artificial flowers may be permitted provided they are placed in an approved vase and are effectively secured to such vase in a manner approved by Ipswich Cemeteries. Artificial flowers will be removed once they, in the opinion of the cemetery staff, show signs of fading, deterioration or damage.
Ornaments
No ornaments, garden edging or other materials are permitted to be placed on the grave or garden.
Plaques
A large range of cast bronze plaques and granite headstones are available for viewing and purchase at Warrill Park Lawn Cemetery.
The placement of photgraphs on lawn plaques is not recommended as they are brittle and are not designed for this purpose. Should you choose to place a photo on a lawn plaque, all care will be taken, however Ipswich Cemeteries takes no responsibility for any damage that may be incurred.
The maximum size allocation for plaques on an adult lawn grave is 700 mm x 500 mm, with only one plaque per grave allowed.
Friends of the Cemeteries
The objective of this group is to get input/feedback from people who have loved ones buried in cemeteries previously operated by Ipswich City Council. Meetings are usually held quarterly and are advertised in the Council information pages of local newspapers.
Related Information
If you require any further information regarding this subject, please contact Ipswich Cemeteries during business hours on (07) 5464 3145 or email ipswichcemeteries@norwoodpark.com.au