Ipswich City Council is dedicated to providing our community with a broad range of information on emergency management in our city. From floods to fires to storm readiness, our range of emergency management initiatives ensure our residents are kept informed, updated and safe in the event of any emergency.
Emergency Management Dashboard (EMD)
The Emergency Management Dashboard provides residents with a comprehensive and user-friendly platform for accessing information on the current status of events in Ipswich, including emergency news, road conditions, weather warnings, power outages and more. The Emergency Management Dashboard is your link to emergency management information - during an event or any other day of the year. Get informed - visit Ipswich City Council's Emergency Management Dashboard today.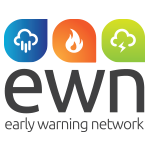 Early Warning Network (EWN)
As part of Ipswich City Council's commitment to community safety and wellbeing, we have teamed up the Early Warning Network to provide residents with early warning alerts for potentially dangerous weather and bushfires within the City of Ipswich. Our goal is to encourage residents to become familiar with potential hazards and risks and take early action where needed.
My Ipswich Alerts
The EWN alerts are provided through Council's innovative My Ipswich Alerts platform, a free service enabling the community to be instantly updated via email, SMS or smartphone app with warnings and information about emergency and disaster events and services actions in the greater Ipswich region. These alerts also include notifications for releases from Seqwater facilities, such as Lake Wivenhoe water release notifications, as well as other unique functions like the 'Help Me' button which sends out your location to family and friends in an emergency. Severe weather warnings are also available via the Ipswich City Council Facebook page or the Bureau of Meteorology.
For more information about My Ipswich Alerts, or to register or update your details, please use the buttons below:
---
Video: Are you flood ready in Ipswich?
Do you know your level of flood risk? Don't be an ostrich - check it out:
Emergency contacts
Triple Zero (all emergencies)

000

TTY Emergency Call

106

Animal Emergencies

RSPCA Emergency Hotline

1300 ANIMAL (1300 130 372)

Department of Agriculture and Fisheries

13 25 23

Disaster and Emergency Information

Queensland Alert

Emergency Management Dashboard

Donation of Goods to Affected Persons

GIVIT

Electrical Providers

Energex

Emergency

General enquiries

Loss of supply

13 19 62

13 12 53

13 62 62

Non-Life Threating Flood, Storm or Rescue Information

State Emergency Service (SES)

132 500

General Information

Download QLD SES Assistance App (iOS/Android

Non-Life Threating Fire, Emergency or Rescue Information

Queensland Fire and Emergency Services

13 74 68

Queensland Government Rural Fire Service

1800 020 440

Gas (Natural) Providers

Networks

Transmission

LPG

1800 427 532

1800 017 000

1800 808 526

Health

12 HEALTH

13 HEALTH (13 432584)

Ipswich City Council

General enquiries and emergencies – all hours

07 3810 6666

National Relay Service

Teletypewriter

Speak & Listen

SMS relay

Internet relay users

Captioned relay users

133 677

1300 555 727

0423 677 767

Police

Crime Stoppers

Police Link

1800 333 000

131 444

Emergency / Disaster Preparation

RACQ Get Ready

Ipswich City Council

My Ipswich Alerts

Qld Gov Community Recovery

Hotline

1800 173 349

Radio

ABC 612 AM

River 94.9 FM

1300 222 612

07 3813 1949

Telecommunications

Telstra

Personal

Business

13 22 03

13 29 99

Optus

Personal

Small and medium business

131 344

133 343

Vodafone

All enquiries

1300 650 410

NBN Co

Traffic and Transport

Queensland Government Department of Transport and Main Roads

13 19 40

Translating and Interpreting

Queensland Government Translating and Interpreting Service

13 14 50

Water & Sewerage

Queensland Urban Utilities (QUU)

Faults & Emergencies

General Enquiries

13 23 64

13 26 57

Volunteer During an Emergency

Volunteering Queensland

Emergencyvolunteering.com.au/qld

07 3002 7600
Managing overland flow
What is overland flow?
Overland flow is surface water resulting from rainfall, which can cause flooding of properties and houses if not properly managed.
Why is it important?
Ipswich is prone to bursts of intense rainfall which causes significant amounts of surface water. This surface water will naturally concentrate and flow downhill. Where a piped drainage system is unavailable or unable to cope, the resulting surface water (overland flow) takes its natural course downhill, often across private property.
Overland flow is a natural occurrence and can be effectively managed across private property by following
some simple guidelines. Download the managing overland flow fact sheet below.
Managing overland flow fact sheet (PDF, 82.8 KB)
Emergency information
Warnings are urgent - you will need to act immediately on the information provided. Whatever the emergency, you need to Tune In - Log On - Listen Out - and Act!
Tune In
Tune your battery powered radio to your ABC 612 or River 949FM to listen for weather and warning updates
Turn your television to your local station to watch and listen for warning updates
Log On
Listen Out
(SEWS) used at the beginning of serious emergency warnings
For emergency alert voice messages to your landline and text messages to your mobile telephone
For local community safety announcements (on radio and television) for advice updates and to identify the preferred evacuation routes for your area
For sirens and loud hailer announcements that Emergency Services may use in certain circumstances
For Emergency Services personnel who may door-knock your local area to pass on warnings
For further information on weather warnings and forecasts or phone 1900 955 360 for the Bureau's Phone Weather Service (call costs apply)
Act
Ensure all householders are aware of the warning and advice provided
Check on family, neighbours and friends who may need special assistance
Activate your plan
Locate and collect your Emergency and Evacuation kits if required
Activate your Emergency Plan
If you are visiting or holidaying in Queensland, or interstate, and do not have family or friends to shelter with, contact your accommodation manager to identify options for evacuation
Display your Emergency Plan on the fridge or household notice board, provide copies to household members, relevant friends, family and neighbours and keep a copy in your Emergency Kit
How prepared are you for natural hazards and emergencies?
A few hours spent working through simple planning tasks with your household, putting aside supplies and securing your home could mean the difference between life and death.
Please download the following fact sheets to help you and your household in the event of an emergency.
Do you have an emergency plan?
Prepare Your Emergency Plan (PDF, 260.4 KB)
Download other language versions of this document.
Do you have an evacuation plan?
Prepare for Evacuation (PDF, 499.8 KB)
Download other language versions of this document.
Do you have an emergency kit?
Prepare Your Emergency Kit (PDF, 848.7 KB)
Download other language versions of this document.
Prepare your home
Prepare Your Home (PDF, 210.3 KB)
Download other language versions of this document.
Tune into warnings
Tune Into Warnings (PDF, 494.3 KB)
Download other language versions of this document.
Check your neighbours
Check Your Neighbours (PDF, 234.5 KB)
Download other language versions of this document.
Do you have a pet emergency plan?
Pet Emergency Plan (PDF, 240.4 KB)
Download other language versions of this document.
Do you have an emergency plan for your car?
Prepare Your Car (PDF, 208.0 KB)
Do you have an emergency plan for your business?
Prepare Your Business (PDF, 207.0 KB)
For more emergency factsheets and tips visit the Queensland Government RACQ Get Ready Queensland website.
National Registration and Enquiry System
During an emergency, registering with NRIS can help people know that you are safe and well can bring your loved ones great peace of mind. This NRIS service is launched during emergency situations to help people reconnect with family and friends.
Latest weather forecast
For the latest weather forecast for south east Queensland, including storm and flood warnings, click on the following link to the Bureau of Meteorology:
http://www.bom.gov.au/weather/qld/
The river gauge used by the Bureau of Meteorology for flood warnings is located on the north bank of the Bremer River just downstream of the David Trumpy Bridge.
Disaster management plan
The City of Ipswich is a dynamic growth area of South East Queensland with a wide range of topography, changing demographics and diversified industries that are occasionally subjected to the impact of disasters, both natural and non-natural.
To meet these challenges, the Ipswich City Council Local Disaster Management Plan has been developed in conjunction with our government and non-government partner agencies. Their contribution is acknowledged and appreciated.
Ipswich City Council Local Disaster Management Plan (PDF, 1.9 MB)
Education and preparedness guides
Did you know that the City of Ipswich is home to people from more than 115 cultural backgrounds? The key to an inclusive and prepared community is accessibility of information to everyone.
As a result, a series of emergency management education and preparedness guides designed for use by culturally and linguistically diverse communities has been prepared by Emergency Management Australia.
The series is made up of six easy to understand illustrations, with each one offering tips for dealing with different types of natural disasters.They provide practical advice in an easy to understand format, making them accessible to the entire community.
Cyclone Fact Sheet (PDF, 2.8 MB)
Earthquake Fact Sheet (PDF, 2.9 MB)
Flood Fact Sheet (PDF, 2.6 MB)
Heatwave Fact Sheet (PDF, 3.0 MB)
Lightning Fact Sheet (PDF, 2.7 MB)