A number of education programs are available for schools, community groups and families within Ipswich to encourage ongoing care for our environment. View the various programs below and get your children, family, school or business involved in fun, engaging and informative activities designed to open our eyes to the beauty of our natural environment and the responsibility we have to keep the natural plant and animal life in Ipswich clean, green and pristine.
---
What a Waste! School and Community Program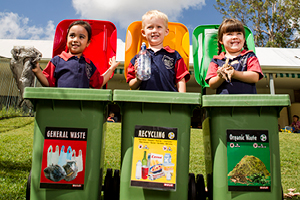 Council offers free waste education programs for local schools and the Ipswich community as part of its commitment to assisting residents dispose of waste responsibly and minimise waste going to landfill.
Schools Program
Program sessions run from 30 minutes to 1 hour depending on year level and topic. Session topics include:
Waste and Our Environment
These sessions explore how the human impact of waste affects our natural environment and why Council provides waste services. Students learn what they can do at home or at school to help minimise and manage their waste in order to help our environment and the creatures living in it.
Recommended for Prep to Year 2.
Towards Zero Waste
Through an interactive presentation students learn how they can start to minimise and manage the waste in their lives in a more responsible way. These sessions allow students to get a basic understanding of the problems surrounding waste and will get them starting to question how we can be more sustainable with our waste.
Recommended for Year 3 and above.
View and download EnviroEd Resources to help the students in your classroom engage in waste activities.
Complete and submit the EnviroEd Program Booking Form if you would like us to visit your school.
For more information contact Enviroed@ipswich.qld.gov.au
Community Program
Tailored presentations regarding waste and recycling are available for community groups. For more information regarding the What a Waste! Community Program please contact us via Enviroed@ipswich.qld.gov.au
---
Other Waste Initiatives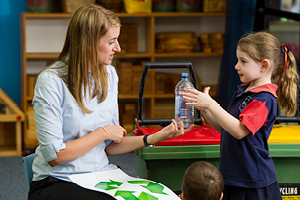 Need more waste assistance? Check out these options:
For more information contact us via Enviroed@ipswich.qld.gov.au
---
Composting and Worm Farming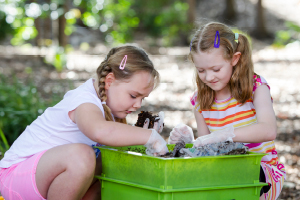 The combination of composting and worm farming is an alternative to general waste disposal and a fantastic complementary addition to green waste services. There are benefits to the household budget and the planet.
For more information about composting and worm farming contact us via Enviroed@ipswich.qld.gov.au
---
Map of Mystery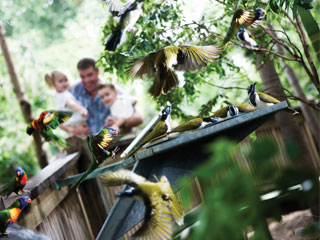 This program has been designed as a self-facilitated environmental education activity to engage students in wildlife conservation and Australian native fauna. The Map of Mystery includes classroom activities and an excursion based at Queens Park. The program is divided into three chapters:
Chapter One
Chapter One engages students in conservation terminology, animal classification and surrounding local wildlife. Students discover how to read and follow maps, including identifying keys. They will also discover the Ipswich City Council's sustainability and conservation work and the importance of protecting local native flora and fauna.
Chapter Two
This chapter entails an excursion held within Queens Park. Students engage in map reading exercises and active tracking to identify Australian native fauna. Following on from these exercises the students will examine the classification of the animals and their conservation status. Wildlife native to their school and home region will also be discussed. Through identifying the human impacts imposed on the local flora and fauna, students will apply problem solving skills to reduce their impact on the natural environment.
Chapter Three
Post excursions activities are conducted back in the classroom. Students will discover additional biological information on species-specific Australian wildlife, anthropogenic influences on fauna and the overarching value of protecting our natural environment. Students will engage in problem solving actions to reduce human impact and improve conservation actions for the native flora and fauna on a global scale. Students can apply these learnings to their home, local parks and gardens or on the school grounds.
The teacher resource booklet below provides resources for classroom activities and preparation for the excursion:
Map of Mystery Teacher Resource Booklet (PDF, 4.4 MB)
Complete and submit the EnviroEd Program Booking Form if you would like us to visit your school - please note that the program is not available for booking on Mondays.
For more information contact us via Enviroed@ipswich.qld.gov.au
---
Following the Figs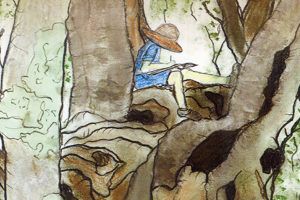 This environmental education program comprises classroom activities and an excursion based at Queens Park, Ipswich. The program uses the Storythread approach, developed and trademarked by Pullenvale Environmental Education Centre (Education Queensland).
Discussing the significant cultural heritage of Queens Park, students develop an awareness and appreciation for the natural environment. Using the pedagogy of place Storythread approach, students participate in outdoor education experiences through Queens Park with real and fictional characters. Students develop an emotional reconnection to nature that generates deep learning beyond the classroom.
The class will explore using a range of learning styles and sensory applications designed to thoroughly engage students in the Storythread approach. This program will allow them to apply these learning tools to discover their own home, school and local environments and to share these experiences with others.
Please note that this program is designed for Year 5 and 6 and is limited to class-size groups.
For more information regarding the Following the Figs program contact us via Enviroed@ipswich.qld.gov.au