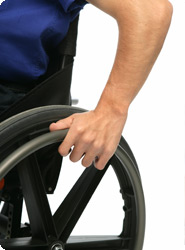 Ipswich City Council has a commitment to enhancing the quality of life for people with a disability. In January 1998 Ipswich City Council adopted a Social Justice Policy and a Disability, Access and Equity Policy. The establishment of these policies demonstrated a commitment by Ipswich City Council to the valued contribution of each individual within our community and the role that Ipswich City Council plays in ensuring equality amongst all individuals.
The Access and Inclusion Disability Action Plan addresses key theme areas such as:
Equitable access
Communication
Consultation
Employment
Council's commitment to community partnerships is further evidenced by the participation of staff in a wide range of interagency activities that promote the aims and objectives of the Social Justice Policy and Disability, Access and Equity Policy.
Click to view the Access and Inclusion Disability Action Plan (PDF, 2.6 MB) and see further advice and support services listed below.
Disability Events
Fresh Future Market 2017
The Fresh Futures Market is a free event supported by the Ipswich Disability Interagency Network and an array of organisations providing services in the education, caring and disability arenas. Attendees will have the opportunity to connect with over 60 different service providers to find out about the great resources that are available locally, including learning about employment, volunteering, education, leisure, post school, respite, carer, community access and disability support options.
Date: Wednesday, 6 September 2017
Time: 9.00 am to 1.00 pm
Location: Ipswich Showgrounds Pavilion, 81 Warwick Road, Ipswich
Fresh Futures Market General Information (PDF, 96.0 KB)
Fresh Futures Market Stallholders Information (PDF, 117.9 KB)
Fresh Futures Market Stallholders Registration Form (PDF, 118.1 KB)
This event is proudly supported by:
Able Australia, ALARA Qld Ltd, Carers Qld, C.A.T.S, Challenge Employment and Training, CPL, Disability Community Awareness, Empowered Futures, Focal Community Living Inc., HealthCall, Ipswich City Council, Ipswich Libraries, Montrose Therapy & Respite Services, National Disability Coordination Officer, QDN, Real Community Services, TAFE Queensland South West
For more information visit the Fresh Futures Market Facebook page or contact Leah Corbyn at ALARA on (07) 3817 0611
Ipswich Disability Interagency Network
The Ipswich Disability Interagency involves members from both government and non-government agencies networking and sharing information between providers of services to people with a disability and their carers. We discuss emerging needs of people with a disability and develop partnerships and encourage greater collaboration of network agencies to address these identified needs.
The meetings occur on the second Wednesday of every month and any disability service agency within or servicing the Ipswich region is welcome to join.
The purpose of the network is to:
Assist in the identification of emerging needs of persons with disability and their carers in the region.
Develop new partnerships and encourage greater collaboration of network agencies to address identified needs.
Facilitate effective communication and networking between providers of services to people with a disability and their carers within the Ipswich Region.
For more information please contact the Seniors & Disabilities Community Development Officer for Ipswich City Council, Karri Browne, ph: (07) 3810 6646 or email: kbrowne@ipswich.qld.gov.au.
Ipswich CBD Disability Access Parking Map and Permits
The Ipswich CBD Disability Access Parking Map provides the locations of disability access parking bays within the Ipswich central business area.
Disability Access Parking Map (PDF, 258.6 KB)
Disability Parking Permits
Motorists issued with an Australian Disability Parking Permit (ADPP) are entitled to:
Park in any space provided for a person with a disability in an on-street or off-street parking location.
Park in local government metered or regulated parking areas free of charge for the following periods:

Where the time limit specified by a sign is less than 30 minutes, permit holders are allowed to park for up to 30 minutes,
Where the time limit specified by a sign is 30 minutes or more, permit holders are allowed to park for an unlimited amount of time.
Permit holders are not permitted to park in restricted parking areas, such as clearways, no stopping, loading areas and bus zones.
Queensland Disability Parking Permit (Red Permit) holders are entitled to park in disability parking bays in off-street locations only.The Department of Transport and Main Roads is responsible for the administration of Disability Parking Permits. For further information, please visit the TMR website or contact them on 132 380.
The National Disability Insurance Scheme
What is the NDIS?
The National Disability Insurance Scheme (NDIS) is a new model of disability support currently being trialled in several locations around Australia prior to implementation across the country.
The NDIS enables the provision of individualised support to eligible people, their families and their carers. Delivered under the title of DisabilityCare Australia (DCA), the intention of the program is to take a flexible, whole-of-life approach to supporting eligible individuals to participate in daily life and pursue their goals and aspirations.
The program provides information and referrals to people affected by disability (including family members and carers), ensuring they get the advice required to access suitable support options, referrals to relevant service providers and social support groups, clubs and associations.
How does the NDIS work?
The NDIS provides targeted support and better coordination and access to services for people across Australia with disability. As a single national system, regardless of what kind of disability you have or where you live, everyone is afforded equal access to existing services.
The choice and control the NDIS offers means you can work with your own carers or with registered external carers and supports. You and your family gain more control over choosing the services that work best for you and get the support you need. This is a significant change to the way disability support services have historically been delivered. To make the transition as smooth as possible, the NDIS is being rolled out across the country in stages - based on the experiential findings of NDIS trial sites over the past three years. Rollout timetables have been developed by each state and territory. In some states, the rollout will be geographically-based, while in others it will be age-based.
The NDIS will be rolled out in Ipswich in 2017.
Please refer to www.ndis.gov.au and www.everyaustraliancounts.com.au for more information regarding the National Disability Insurance Scheme.