This award is presented to a senior Ipswich sportsperson who has achieved great results in the past 12 months. Nominees must have been 18 years or older at the time of the competition in order to qualify for this category. Nominees should present a positive image of their sport.
(Image: 2018 Winner - Deanna Lockett, Short Track Speed Skating)
Sporting Organisation of the Year
This award is presented to an Ipswich-based, incorporated, not-for-profit sports club. Nominations will be based on assessment of the on-field performance of the club/organisation members; the club/organisation's engagement in and contributions to the Ipswich sports community; the club/organisation's promotion of healthy initiatives, including alcohol management plans, healthy canteens, sun smart policies, smoke-free environments and injury prevention and management plans; and the level of planning conducted by the club/organisation. Nominated clubs/organisations should present a positive image of their sport.
(Image: 2018 Winner - Ipswich and West Moreton BMX Club)
2018 Finalists
Ipswich and West Moreton BMX Club - WINNER
Ipswich Basketball Association
Ipswich Netball Association
Ipswich Rangers Rugby Union Club
Springfield Runners Group
Western Pride Football Club
---
City of Ipswich Junior Sportsperson of the Year
This award is presented to a junior Ipswich sportsperson who is 17 years or younger at the time of the competition and has achieved great results in the past 12 months. Nominees should present a positive image of their sport.
(Image: 2018 Winner - Tamzin Christoffel, Taekwondo)
2018 Finalists
Abigail Evetts (Football)
Annie McGuire (Athletics)
Blake Murray (Haidong Gumdo & Taekwondo)
Dylan McAteer (Cricket)
Joshua Routledge (Softball)
Kaito Nelson (Tennis)
Kayne Welman (Mixed Martial Arts)
Poppy Wilson (Swimming)
Rochelle Vidler (Athletics)
Sabbath Smercnik (Brazilian Jiu Jitsu)
Sophia Preston (BMX)
Tamzin Christoffel (Taekwondo) - WINNER
Waimania Paikea (Dance)
Zac Profke (Hockey)
---
Masters Sportsperson of the Year
This award is presented to an Ipswich sportsperson who is 35 years or older at the time of the competition and has excelled in their chosen sport/s. Nominees should present a positive image of their sport.
(Image: 2018 Winner - Steven Graham, Weightlifting)
2018 Finalists
Brian Hansen (Target Rifle Shooting)
Clay Dawson (Long Distance Running)
Michael Berlin (Athletics)
Sharyn Crouchen (Ten Pin Bowling)
Simon Knechtli (Powerlifting)
Steven Graham (Weightlifting) - WINNER
---
Aussie Home Loans Coach of the Year
This award is presented to eithe a coach of an Ipswich-based athlete/s or team/s; or An Ipswich-based coach of any athlete/s or team/s. This person can have performed their coaching role in either a voluntary or paid capacity. Nominees will have made significant contribution to the success of the athlete/s or team/s they coach; and/or be able to demonstrate a significant contribution to increasing the overall standard of coaching in a particular sport (either locally or at state, national or international level). Nominees should present a positive image of coaching and their sport.
(Image: 2018 Winner - Peter Reeves, Running)
2018 Finalists
Derek Murray (Taekwondo)
Jackson Solofa (Weightlifting)
Peter Reeves (Running) - WINNER
Robert Lewis (Cricket and Hockey)
Stacey Taurima (Athletics)
---
Official of the Year
This award is presented to an official (e.g. referee/umpire/score bench) who has either officiated for an Ipswich-based competition; is an Ipswich resident officiating in other competitions that may be outside of the Ipswich region. The person can have performed their role in either a voluntary or paid capacity. Nominees will have attained a level of excellence in officiating and demonstrated an outstanding commitment to the sport/s in which they are involved. The level and significance of achievements will be considered, as will significant contribution to increasing the overall standard of officiating in a particular sport (either locally or at state, national or international level). Nominees should present a positive image of officiating and their sport.
(Image: 2018 Winner - Aaron Gotting, Hockey)
2018 Finalists
Aaron Gotting (Hockey) - WINNER
Claudia Murray (Taekwondo)
Jordan Harton (Basketball)
---
Volunteer of the Year
This award is presented to an individual who has provided an outstanding voluntary contribution to the Ipswich sports community in the past 12 months. The voluntary contribution can be related to a single club or association; multiple clubs or associations or the Ipswich sports community as a whole. Nominees must NOT have received payment for the duties they have performed (reimbursement of directly incurred expenses is acceptable). The nominee should present a positive image of volunteering and the sport/s in which they are involved.
(Image: 2018 Winner - Darryl Kitching, Football)
2018 Finalists
Claudia Murray (Taekwondo)
Darryl Kitching (Football) - WINNER
Debbie Herrmann (Football)
Melissa Smith (Little Athletics)
Natalie Fox (Rugby League)
Paula Watkins & Kaylene Barrett-Graves (Rugby Union)
---
With thanks to our 2018 Ipswich Sports Awards sponsors:

2019 Sports Awards Partnership Opportunities
If you are looking for a way to give back to your community, the Ipswich Sports Awards provide an exciting and innovative opportunity for your business to be involved with a local initiative. Ipswich has a rich sporting history and your involvement with this event will assist in building your reputation as a supporter of Ipswich's residents. You may find this a unique way to achieve the competitive advantage that is so difficult to achieve through traditional advertising. For more information on how you can be involved and work towards achieving your own business objectives, please contact the Partnerships Officer on (07) 3810 6666.
2017 Sports Award Finalists and Winners
Choices Flooring by Mallets Sporting Organisation of the Year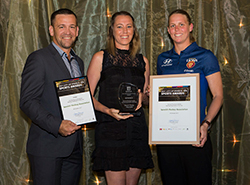 Ipswich Hockey Association - Winner
Ipswich and District Junior Tennis Association
Ipswich and West Moreton BMX Club
Raceview Soccer Club
University of Southern Queensland Team of the Year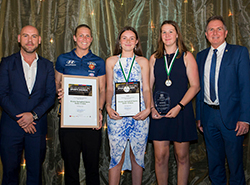 Greater Springfield Sports Under 15 Girls (AFL) - Winner
Ipswich Rangers Under 9 Green (Rugby Union)
Coach of the Year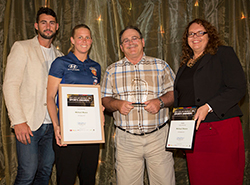 Michael Moore (Athletics) - Winner
Belinda Kitching (Football)
Jackson Solofa (Barbell)
John Collins (Golf)
Rex Watts (AFL)
Stan Cuthbert (Tennis)
Official of the Year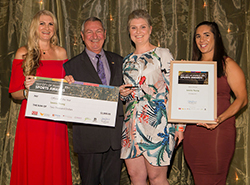 Leonie Young (Hockey) - Winner
Claudia Murray (Taekwondo)
Hayden Michel (Hockey)
Volunteer of the Year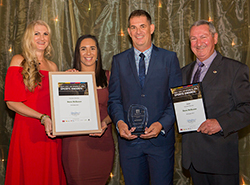 Dane McQueen (Rugby League) - Winner
Nev Paulsen (Cricket)
Rex Watts (AFL)
Robert McLeod (Hockey)
Masters Sportsperson of the Year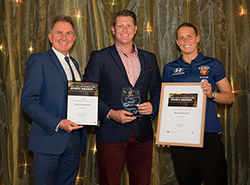 Darrin Norwood (Athletics) - Winner
Clay Dawson (Long distance running)
Glynn Knox (Indoor cricket)
Greg Lebeter (Traithlon)
Kathleen Anderson (Hockey)
Queensland Times Senior Sportsperson of the Year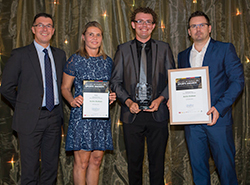 Archie Graham (Tennis) - Winner
Erika Yamasaki (Weight Lifting)
Dulane Carson (Indoor cricket)
Jessica Cashman (Boxing)
Joseph Deng (Athletics)
Michael Hepburn (Cycling)
Rebecca Ungermann (Triathlon)
Sarah Cullen-Reid (Netball)
City of Ipswich Junior Sportsperson of the Year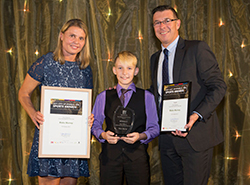 Blake Murray (Taekwondo) - Winner
Adam Smidt (Crossfit)
Annie McGuire (Athletics)
Cooper Ward (Basketball)
Emily Witheyman-Crump (Hockey)
Joshua Routledge (Softball)
Kayne Welman (Martial Arts)
Louis Dobbelaar (Golf)
Montanna McAvoy (Athletics/Football)
Rochelle Vidler (Athletics)
Sophia Preston (BMX)
Sports Excellence Award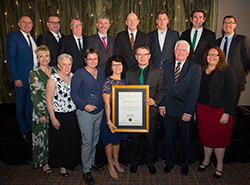 Western Pride Football Club - Winner
With thanks to our 2017 Ipswich Sports Awards sponsors:

2016 Ipswich Sports Awards
The annual Ipswich Sports Awards support, recognise and reward sportspersons for excellent performance in and commitment to sport. Winners received prizes up to the value of $2,000 at the annual awards ceremony.
2016 Ipswich Sports Awards Winners
Congratulations to all finalists - your hard work and dedication to your sport is well deserved and we are pleased to host the awards ceremony and share your success with our city:
Coach of the Year
Graham Harvey (Football) and Diane Sheppard (Athletics)
Corporate Sponsor of the Year
Llewellyn Motors (Ipswich Hockey and Ipswich Jets)
Masters Sportsperson of the Year
Greg Lebeter (Triathlon)
Official of the Year
Mitchell Blashak (AFL)
Sports Excellence of the Year
Archie Graham (Tennis)
Louis Dobbelaar (Golf)
Team of the Year
Ipswich Netball Under 13 Representative Team (Netball)
Volunteer of the Year
Heather Scott (Hockey)
Queensland Times Junior Sportsperson of the Year
Enrique Berrios (Karate)
Queensland Times Senior Sportsperson of the Year
Leah Neale (Swimming)
Sporting Organisation of the Year
Western Pride Football Club
For further information visit grants and sponsorships, phone (07) 3810 6666 or email sportrecreation@ipswich.qld.gov.au