Illegal parking behaviour at schools puts the safety of school children and people at risk. Schools can play a leading role in improving safety for students during drop off and pick up times.
The 2018 School Safe Program supports schools to encourage behavioural change in their communities by providing key tools and resources for use. The program focuses on educating parents and motorists on safe road travel and parking to create a safer environment for school children.
Schools wishing to join the 2018 School Safe Program can register and view the Resource Portal via the buttons below.
Tiered support system
Once registered, Ipswich City Council works with the school to assign a tier rating. The tier system allocates extra resources to schools in the first and second tiers based on their level of need and previous road and parking history.
Why join?
All schools registered will have access to the School Safe Program Resource Portal to encourage and support behavioural change. Below are the tiers and support provided.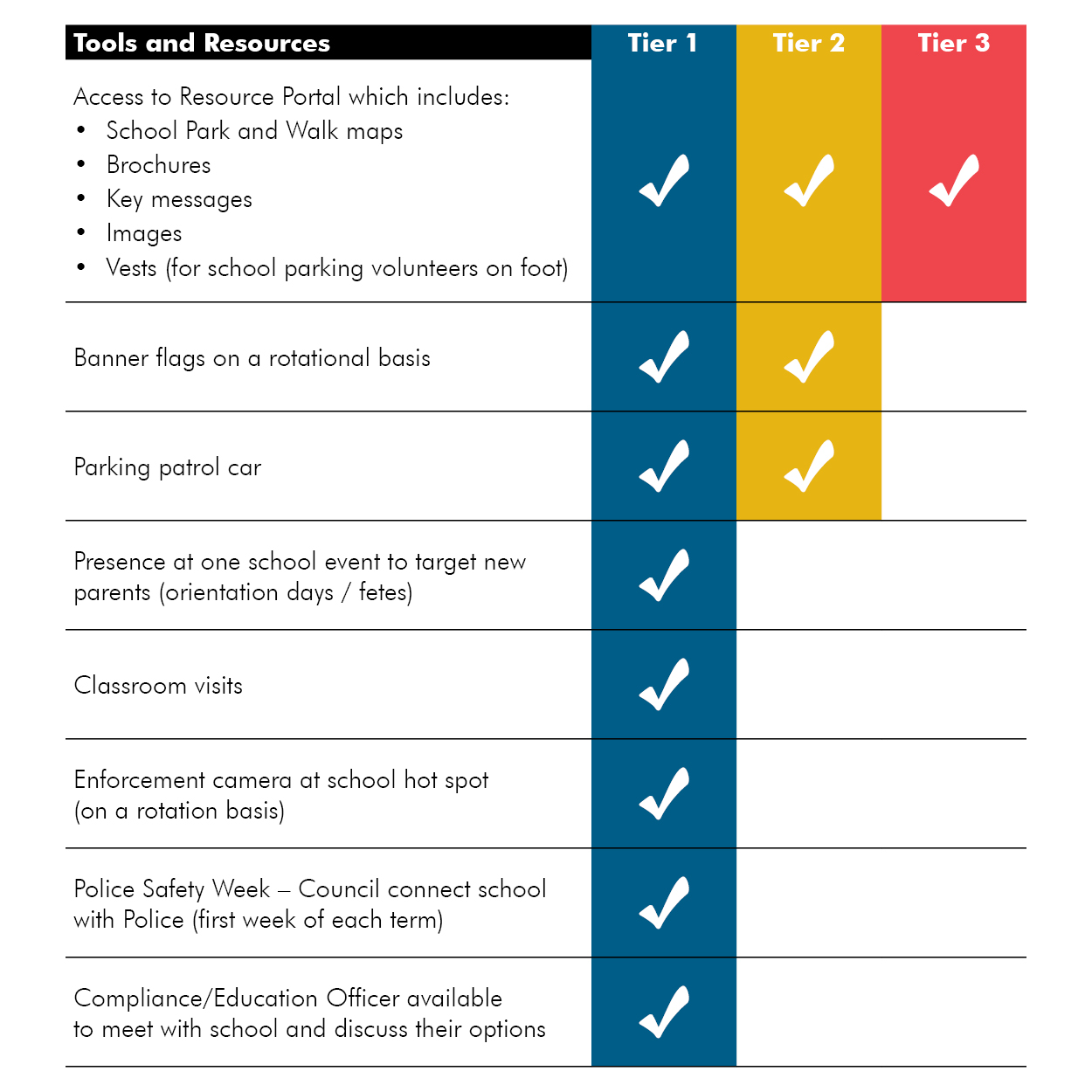 Role of Council in school parking
To keep children safe around schools, Council Compliance Officers monitor school parking areas and enforce parking zones and restrictions. This includes issuing infringement notices to people who breach parking restrictions. Council also plays a role in educating schools, students and parents about safe parking practices around schools.
The laws that apply to school parking include:
If you have a concern about parking during drop-off or pick-up times around a school, please contact Council by phone on
(07) 3810 6666, email via schoolsafe@ipswich.qld.gov.au or contact the police.
More Information
For more information on the School Safe Parking Program contact Ipswich City Council via email schoolsafe@ipswich.qld.gov.au or call Graham Schultz on (07) 3810 7680.
For complaints or suggestions contact the Council Call Centre on 3810 6666, email council@ipswich.qld.gov.au
or PO Box 191 Ipswich 4305