Finding Rover is a free mobile app for finding lost dogs in real-time. Ipswich is Australia's first city to roll out Finding Rover, the facial recognition app for dogs which will reunite more lost dogs with their owners faster.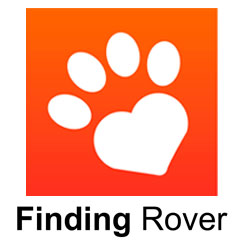 Finding Rover is the original, most accurate state of the art facial recognition technology that helps reunite more dogs with their owners by enabling anyone to instantly identify a missing dog simply by taking a photo of the dog.
The facial recognition technology makes the app's photo matching capability 98% accurate in matching Lost Dog and Found Dog posters.
About the App
Finding Rover features a comprehensive lost and found dog notification system that sends a push notification and social feed photo alert if a dog is lost or found within a 10 mile radius. The search
radius can be widened to over 2000 miles.
Lost Dog and Found Dog digital posters are on the interactive map which will allow users to
see exactly where dogs have been lost or found in real time. If a user has lost or found a dog, he/she can take a photo within the app or upload a photo from
their device's photo album to Report.
Once a dog has been Reported and identified through Finding Rover's facial recognition software,
possible matches will be given.
Key benefits include:
Simple to register: Registration is easy through Facebook and email. All you need is a
picture of your dog and a postcode.
Easy to use: Anyone with a smartphone can take a photo of a lost dog, which can be
instantly posted on Finding Rover.
Technologically advanced: Finding Rover spent over two years with The University of Utah research and development (R&D) department creating its patented facial recognition technology
Social: Finding Rover unites dog owners based on common interests and provides a forum for users to read up on the latest dog news, share content and interact
Free! Finding Rover is free to download and use. Dog owner or not, Finding Rover is the only photo-matching technology available for everyone to use for free. The more people using Finding Rover, the more dogs that will be saved, and FREE allows that to happen
Friends, family, rescues, and dog-centric organizations can also create a social "pack" with their dogs on Finding Rover to share common interests and interact
Hundreds of shelters and veterinarians worldwide will have synchronization with Finding Rover's technology by the end of 2014. For the public, this means a dog owner can view all the shelters in their area to see if their lost dog has been impounded. People will also be able to view adoptable dogs from their local shelters and rescues right on Finding Rover
Finding Rover is currently available on iOS, Android, and online. To save a dog, register your lost dog or to simply learn more go to: http://www.findingrover.com