For more information please contact Protege Master Class lead Brittney Kahl on (07) 3810 6285 or email protege@ipswich.qld.gov.au
---
Music Workshops and Events
Songwriting Workshop
II
I Heart Songwriting Workshop (Kids 13-17 Years)
Are you a budding songwriter aged between 13-17 attending high school in Ipswich? Want to write 10 songs over 10 weeks and take the next step in your songwriting journey? Then the I Heart Songwriting program is for you.
Ipswich City Council's Protege Masterclass Program, I Heart Songwriting Club, BEMAC and Studio 188 have teamed up to present an exciting songwriting program commencing in August 2019. Learn basic improvisation, melodic and rhythm skills from I Heart Songwriting founder and musician Francesca De Valence in 1-day workshop, followed by a 10-week online songwriting course where students will write one new song a week with feedback from their mentor. At the conclusion of the online course, students are invited to perform at a public showcase to celebrate what they have achieved with friends and family.

This exciting opportunity for all kids aged 13-17 years will not only improve their creative skills and explore what's possible, they will be guided by their own professional songwriting mentor every step of the way so that they are constantly supported to write 10 songs in the 10 week course. If they read music, that's great. If they don't, that's fine. We will show them everything they need each week. The total time commitment is approximately 1.5 hours per week and is not time specific. There will be ongoing paid performance opportunities available to workshop participants at local markets, restaurants, open mic nights and even radio interviews.

Applying is FREE and involves telling us a bit about yourself and uploading a video or audio track of one of your original songs (voice memo or phone recording quality is sufficient). The program is capped at 10 participants and priced at $50.00. You will notified if your application is successful or not by Wednesday 31 July by email.
For more information please contact Protégé Master Classes lead Brittney Kahl on protege@ipswich.qld.gov.au
---
Ipswich Unearthed
Ipswich Unearthed | Saturday 10 August, 12 October, 14 December
Join this musical journey of discovery as we unearth young emerging musical talent destined to become Australia's next pop sensation, country rock legend or acoustic singer-songwriter. Sign up and participate in the Protégé Master Classes to workshop how to be a well-rounded musician and professional performer and get the chance to showcase your new talents on stage at Studio 188 at the end of your workshop course.
For more information or to enquire about playing a part in Ipswich Unearthed contact Studio 188 performance programmer Brittney Kahl on (07) 3810 7472 or
info@studio188.com.au
---
QMusic Industry Connect 2019 Workshop Results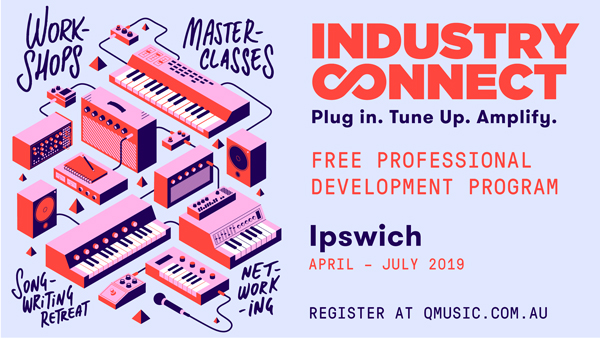 The 2019 Industry Connect workshops were a huge success, with many artists going on to perform at various events held at Studio 188. Congratulations to local artist Du0 for being selected to attend the AMPLIFY Songwriting Camp on the Sunshine Coast, along with artists from other regions that held Industry Connect workshops. The recipient of the BIGSOUND Delegates Pass will be announced in the coming weeks.
With thanks to our workshop facilitators:
Kellie Lloyd (APRA AMCOS)
Thomas Granger (Audiopazz Agency)
Deena Lynch (Jaguar Jonze)
Tyler McLoughlan (The Sound Pound)
Sarah Hazlehurst (The Culprit Club)
Nerve, Angela Kohler (Brisbane Festival)
Andy Irvine (GYROstream)
Peter Gillies (Craft Digital Marketing)
Gav Parry (QMusic Program Manager)
---
Production Workshops and Events
Production workshops are free and are able to be booked by local community, youth and school groups with a maximum of 10 participants (plus teachers) per workshop. View details of current workshops below or submit your application to:
---
Drama Workshops and Events
Keep your eyes peeled for an upcoming drama workshop with the Queensland Theatre, launching in October 2019.
---
Dance Workshops and Events
Coming soon
---
Visual Art Workshops and Events
School Holiday Rock-Painting Workshop
Studio 188 has partnered with Creative Ipswich and Ipswich Rocks to present a rock decorating workshop during the second term school holidays. Ipswich Rocks was created for Ipswich locals and visitors who love to get out and explore, discover and create. Get out and explore parks in your local area. When you find a rock, paint or decorate the top and draw a Facebook symbol on the bottom. Once your rocks are dry, take a photo and post it in the group and then hide your rocks in parks around Ipswich. You can either re-hide the rock in the same spot or in a different spot.
Check out the Ipswich Rocks School Holiday Facebook event.
---
Other Industry Information
Young Performing Artist Bursary
Artists and performers aged under 25 years are able to apply for a bursary from Ipswich City Council to an annual maximum of $500 for individuals or $700 for groups.
Regional Arts Development Fund
Applications for the February round of funding are now closed. The next funding round opens on Monday 1 July 2019. The Regional Arts Development Fund (RADF) is delivered as a partnership between the Queensland Government through Arts Queensland and eligible local councils across the state. RADF promotes the role and value of arts, culture and heritage as key drivers of diverse and inclusive communities and strong regions. The fund invests in local arts and cultural priorities as determined by local communities across Queensland and its flexibility enables local councils to tailor RADF programs to the specific needs of their communities.
RASN Community Projects
As a new approach to delivering statewide arts services, Arts Queensland's RASN was announced in 2017 with a state government funding commitment of $6.5 million over four years. Access Community Services Ltd was awarded the tender to coordinate RASN in the South East Queensland regions of Ipswich and Logan, with the project managed by the organisation's award-winning arts arm Brisbane Multicultural Art Centre (BEMAC). BEMAC is seeking expressions of interest from local individuals, groups, businesses and not-for-profits to develop local projects. Successful EOIs may be supported financially up to $2,500 and/or through the provision of mentorship, marketing, project development, partnership development and more.