When a disaster strikes, the best state you can be in is prepared. By arming yourself with knowledge of what to in various types of potential emergencies, you will be able to react quickly and smartly to minimise risk to lives and property. It is recommended that you print out the below factsheets and keep them in a file with your emergency supplies so that they are easily on hand if and when needed.
---
Emergency Planning Factsheets
A few hours spent working through simple planning tasks with your household, putting aside supplies and securing your home could make a huge difference to the impacts that a disaster or emergency event have on your home and family. The following factsheets will help prepare you and your household in the event of an emergency.
---
Culturally and Linguistically Diverse (CALD) Information
Did you know that the City of Ipswich is home to people from more than 115 cultural backgrounds? The key to an inclusive and resilient community is accessibility of information to everyone. Emergency Management Australia has produced a range of emergency management education and preparedness guides designed for use by culturally and linguistically diverse communities. The series is made up of six easy to understand illustrations, with each one offering tips for dealing with different types of natural disasters. They provide practical advice in a simple format, making them accessible to the entire community.
---
Ipswich City Council Local Disaster Management Plan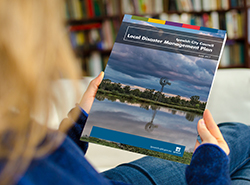 The City of Ipswich is a dynamic growth area of South East Queensland with a wide range of topography, changing demographics and diversified industries that are occasionally subject to the impact of disasters, both natural and non-natural. To meet these challenges, the Ipswich City Council Local Disaster Management Plan has been developed in conjunction with our government and non-government partner agencies. Their contribution is acknowledged and appreciated.
---
More information