Sport and recreation is an integral part of life in Ipswich City. The City has a proud sporting heritage that has produced many sporting champions participating in a wide range of sports.
Council administers three sport and recreation programs that support and recognise Ipswich sports persons and their achievements, and provide support to sport and recreation organisations to host events in Ipswich.
Sport Excellence Bursaries
If you are representing Queensland or Australia at a sporting event you may be eligible for a bursary from Ipswich City Council of up to $300. Applications are open to junior and senior representation. Bursary applications can be made throughout the financial year for events within that year by simply completing the online application form.
When applying for a Sport Excellence Bursary, please ensure you meet the following criteria, and provide the appropriate documentation when completing your application:
Applicant must be an Ipswich resident
Applicant must be an amateur sportsperson
Applicant must have been selected to represent Queensland or Australia at a sporting event within the financial year
Applicant must attach evidence of selection to compete (e.g. letter from sanctioning body)
If you are awarded a Sport Excellence Bursary you will automatically go in the running to receive a monthly Ipswich Sports Award. The assessment for these awards are based on the following categories, please provide details where applicable:
Selection/Competition
Performance (Team or Individual)
Commitment (Including Awards and Positions, Excellent Performance and Volunteering)
Complete Online Application Form
For assistance please contact the Applications Team on (07) 3810 6666.
Each month eligible bursary recipients will be notified by mail and will be in the running to receive the monthly Ipswich Sports Awards (please click on below 'Ipswich Sports Awards' link for more information about this program).
Ipswich Sports Awards
The Annual Ipswich Sports Awards seeks to support, recognise and reward sportspersons for excellent performance in and commitment to sport.
The following awards are open for nomination by the community:
Sporting Organisation Of The Year
Team Of The Year
Masters Sport Award
Club Administrator Of The Year
Coach Of The Year
Official Of The Year
Sports Event Of The Year
Volunteer Of The Year
Corporate Sponsor Of The Year
Complete Online Application Form
For assistance please contact the Applications Team on (07) 3810 6666.
The following awards cannot be nominated for. Winners are chosen by a judging panel:
Junior Sportsperson Of The Year
Sportsperson Of The Year
Sports Excellence Of The Year
Lifetime Achievement Award
Note: The Junior Sportsperson and Sportsperson of the Year finalists are all recipients of a Monthly Sports Award.
Awards for the 2013/2014 applicants will be presented at the annual awards dinner on 1 November 2014.
Photos from the 2011-12 Queensland Times Annual Ipswich Sport Awards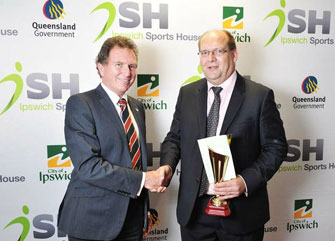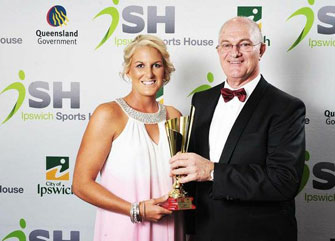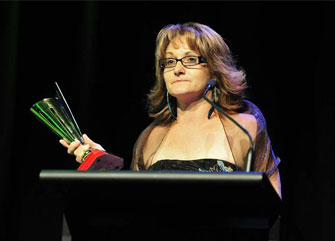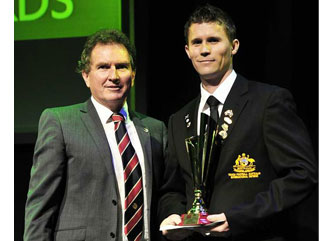 Other Sporting Awards/Grants Programs
Young Athlete Assistance Program - The Department of Communities, Sport and Recreation Services provides this program to financially assist young athletes in Queensland who have competed at a State or State School Championship, National or National School Championship or International Championship.
Australian Sports Commission - Local Sporting Champions - The Local Sporting Champions program is an Australian Government initiative designed to provide financial assistance for young people aged 12-18 towards the cost of travel, accommodation, uniforms or equipment when competing, coaching or officiating at an official national sporting organisation (NSO) endorsed state, national or international sporting championships or a School Sport Australia state or national championships.
Sporting Event Sponsorship
The Sporting Event Sponsorship program aims to assist eligible organisations to host local, district, regional, state, national and international sporting events within the boundaries of the city. The objectives of the program are:
To increase physical activity for community benefit.
Assist in building the capacity of sport and recreation organisations to host events and for the events to become sustainable.
Create partnerships with local, state and national sporting organisations.
Activate spaces and facilities.
Time Frame
Applications for the sporting event sponsorship can be submitted at any point during the year. Please note that applications must be received at least 8 weeks before the date of the event to ensure that there is sufficient time for the processing of applications.
Eligibility
Organisations that apply for support under the Sporting Event Sponsorship program must meet the following criteria:
Sporting Events must be within the geographic boundaries of the Ipswich City Council
Must be incorporated, Ipswich based and not for profit
Sponsorship is only available for one event each financial year
Must be covered by a Public Liability Insurance Policy with a minimum value of $10,000,000
All previous Ipswich City Council Sporting Event Sponsorship grants of $1000.00 or more must be acquitted.
Sporting Sponsorship Acquittal Form (PDF, 1.6 mb)
Not Eligible
Schools
Political organisations
Unincorporated groups
Religious events
Charity events
Events that are not a sporting competition or championship
Application Process
Stage 1 - Event Planning
Ipswich City Council requires organisations seeking sponsorship to demonstrate effective event planning. This includes a complete budget for the proposed event. If you require assistance with developing a budget please contact the Sport and Recreation Officer at sportrecreation@ipswich.qld.gov.au
The Ipswich Sports House is also available to assist in all your club development and event management needs.
During the application organisations are asked to disclose any other funding or support they have received from Ipswich City Council. Please note that this amount will be deducted from their eligible Sporting Event Sponsorship funding.
Stage 2 - Applying
The first step when applying is to check that your organisation is eligible.
If eligible please fill out the Online Application Form or download Sporting Event Sponsorship Application Form (PDF, 978 kb)and lodge at:
Ipswich City Council
Customer Service Centre
143 Brisbane Street
IPSWICH (Top of the Ipswich City Mall)
Or post to:
Ipswich City Council
PO Box 191
IPSWICH QLD 4305
Or fax to: (07) 3810 6731
Or email to: council@ipswich.qld.gov.au
Note: Incomplete or late applications will not be eligible for assessment.
Stage 3 - Application is assessed
Your application will be assessed on the following:
Ability to meet the eligibility criteria
Ability to meet the objectives of the Sporting Event Sponsorship program
Benefit to the community and community involvement
Proactive club development including having a club development plan, working with the Ipswich Sports House, and having policies in place to cover health aspects such as smoking, alcohol management and sun safety
Event management planning and the organisations event management knowledge and skills, or the organisations willingness to meet these requirements
Stage 4 - Outcome
Organisations will be notified of the outcome of their application. Applicants may be required to attend a metting to further discuss the event and the sponsorship agreement, including type of support and responsibilities.
The value of sponsorship will be determined by Council in accordance with your application and the marking criteria. However previous event sponsorship support does not guarantee ongoing sponsorship support.
Any successful applicants will need to fulfill specific requirements which may include displaying Ipswich City Council signage and logos etc. Your requirements will be outlined in an agreement that you will be required to sign.
If your organisation has an ABN and is registered for GST it is required to enter into a Recipient Created Tax Invoice (RCTI) Agreement. The RCTI Agreement allows Ipswich City Council to raise a Tax Invoice on behalf of the organisation. This means a Tax Invoice cannot then be issued by the organisation. This will eliminate the need for unnecessary correspondence. The RCTI will be generated and sent to the organisation with sponsorship.
If your organisation is not registered for GST, it is required to send Council an invoice for the approved amount of the sponsorship. Once the Ipswich City Council receives the invoice for sponsorship funds payment will be processed and sent to the organisation.
Council reserves the right to recover any Sporting Event Sponsorship support should the sponsored event be cancelled or postponed.
Goods and Services Tax (GST)
Goods and Services Tax is applicable to all services including the financial assistance provided under this program provided that the applicant is registered for GST.
If your organisation has an ABN and is registered for GST, the sponsorship will be grossed up by the GST amount. You will be required to remit the GST amount to the Australian Taxation Office on you next Business Activity Statement.
If your organisation is not registered for GST, then no GST will be applicable to the sponsorship.
Withholding Tax
Under the Pay As You Go (PAYG) withholding system, Council is obliged to withhold tax from recipients that do not quote an Australian Business Number (ABN). If your organisation wishes to claim exemption from withholding tax it must complete the Organisation Declaration on page 4 of the application.
Related Links
Sport and recreation clubs play a key role in keeping the community healthy and active. Building Better Clubs has been created to help sport and recreation clubs in Ipswich be sustainable for a better community.
The program focuses on providing support in five key areas:
Education and Training - workshops, seminars and other resources focusing on important issues relevant to clubs
Grants and Awards - Council and other grant, funding and award opportunities available to clubs
Promotion - local opportunities to promote clubs online and through programs
Information - industry and Council news/updates, current grant, funding and award opportunities, upcoming workshops, facility booking information and other resources for clubs
Communication - provide Council with your ideas for workshops and resources, and feedback about the program
For more information about the support available please visit the Building Better Clubs page.