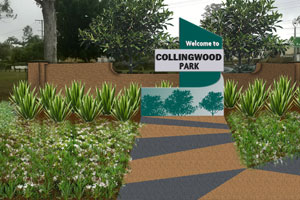 Ipswich City Council is engaged in a number of projects involving improvements to streetscapes, pathways, waterways and parks to provide beautiful spaces and exciting recreational opportunities for Ipswich families to enjoy.
Residents are encouraged to come back to this webpage regularly to be kept informed and engaged on upcoming improvements and projects in their suburbs, including:
Upgrading and maintenance of walking and cycling pathways
Landscaping enhancements in local parks and reserves
Improvements to streetscapes via avenue planting and feature gardens
Building local community identity through installation of suburb entry statements and relevant artworks.
Collingwood Park and Riverview residents will be the first to see improvement projects on the ground as the Beautiful Ipswich program rolls out across the city.
Project 1: Collingwood Park and Riverview Street Tree Improvements
Street tree improvements to Collingwood Drive, Namatjira Drive, Lawrie Drive and Goss Drive, Collingwood Park
Street tree improvements to Old Ipswich Road, Riverview
Street trees not only add to the visual appeal of our streets, they also provide cleaner air and cooler, greener, more comfortable pathways for walking and cycling.
The street trees are to be supplied and installed free of charge on the nature strips of the nominated streets listed above. Please note that not all properties will be suitable for the planting of street trees and suitability will also be assessed depending on existing services.
Council will water the trees for the first 12 weeks and residents can get involved by partnering with us to continue watering their street trees to ensure they are properly established. As the trees mature, they will be regularly maintained as part of Council's Street Tree Program.
We look forward to working closely with residents to make Ipswich beautiful for generations to come.
Project 2: Upgrade of Rod and Denice Strong Park - Have Your Say
Council is currently in the process of seeking community input into the upgrade of Rod and Denice Strong Park. We want to hear from the community how you would like to use the space. We are proposing a number of options for the upgrade of the park, including community gardens, open grass areas, picnic shelters, fruit trees and public art. Have your say now and be part of creating a beautiful Ipswich!
Community Input Survey - Rod and Denice Strong Park Upgrade
Project 3: Greening Jamboree Park
Council is currently working in partnership with the community to improve the landscaping in Jamboree Park. You may see Challenge Employment trainees working hard to improve the landscaping by adding trees along the pathways, creating new gardens and improving the existing ones with hardy plants and improved garden edges. Challenge Employment trainees will also be working hard to prepare for a working bee that will see Centro Church volunteers working hard to improve a section of garden in the park along Collingwood Drive.
We are looking forward to continuing to work in partnership with the Ipswich community to create a Beautiful Ipswich.