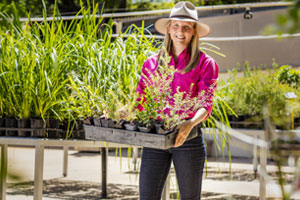 Ipswich City Council provides a Free Plant Program each financial year to assist residents in developing a greener and more beautiful Ipswich.
Council endeavors to give away 120,000 plants per annum. Plants are proudly propagated and grown in Ipswich City Council's production nursery. Plant species are chosen and propagated to suit local climate and soil conditions.
As an Ipswich resident you are entitled to free plants every financial year under the Council's Free Plant Program. The following entitlements are available upon presentation of proof of residency:
Type of Resident/Property/Partner
Maximum Number
of Plants
Residential/Renters (including duplex/dual occupancy)
6 plants
Riparian Allotments (on a river)
15 plants
Acreage (0.4ha - 4ha, 1 acre - 10 acres or 4000m² - 40,000m²)
15 plants
Home owner (Ratepayer) of newly build homes (under 12 months old)
25 plants
Peri Urban (4ha - 20ha, 10 acres - 50 acres or 40,000m² - 200,000m²)
30 plants
Habitat Gardens Partner
20 native plants
Note:
Please do not complete the application form as this is not required
Please see the Required Documents section below for the documents that must be provided
Owner occupiers of newly built homes (under 12 months old) will be entitled to a one-off allocation of 25 plants in addition to their annual allocation
Habitat Gardens Partners are entitled to 20 native plants in addition to their original 6 eligible plants
Further allocations are available for selected customer types upon submission of an application form where eligible. Applications will only be accepted from eligible customers.
When am I required to complete an application?
Free plants are also available to the following property types, groups and residents with Landholder Partnerships upon submission of an application and plan:
Type of Group/Property/Landholder Partnership
Maximum Number
of Plants
Townhouse/Strata Titles
4 plants
Large Land Parcel (over 20ha or 50 acres)
100 plants
Church
School – including Day Care Centres
Sporting Club
Registered Wildlife Carer
200 native plants
Nature Conservation Agreement
Bushland Conservation Agreement
Waterways Conservation Agreement
Koala Conservation Agreement
(Eligible for up to 500 native plants the first year)
Land for Wildlife Partner
Note:
Applications will only be accepted when required, as listed above
Free Plants are to be planted at the property stated in your application, they are not to be redistributed
A signed Landholder Partnership must already be in place to be eligible for the outlined number of plants
Plants from the above categories are selected by the Nursery Staff based on the information provided in your application
Applicants will be notified of the outcome of their application within 2 weeks
If your application is successful applicants will be contacted to organise a suitable date and time for collection – due to the number of plants to be collected applicants are unable to select from the nursery as would normally be possible
To complete the online Free Plant Application Form, please visit Council's Online Services portal and follow the steps below:
Click the 'Application Lodgement' icon on the menu to the right
Sign in if already registered for services, or register via the links shown
Council will create a new user account and inform you when you can proceed with your Application Lodgement.
Alternatively, complete the form below and submit via email to council@ipswich.qld.gov.au or post to the listed address:
Free Plant Program Application Form (PDF, 42.8 KB)
Free Plant Program
Ipswich City Council
PO Box 191
Ipswich QLD 4305
Required Documents
The following documents must be presented to receive the above plant entitlements:
Type of Resident
Documents to be Presented
Home owner (Ratepayer)
A current Rates Notice
Home owner (Ratepayer) of newly build homes
(under 12 months old)
A current Rates Notice and
a Certificate of Occupancy or a Form 21
(either can be obtained through your builder)
Private Renter
Your landlords current Rates Notice
Defence Housing home occupant
Defence Housing Rental book or
letter from Defence Housing Authority
(giving authorisation for the resident to collect the plants)
Department of Housing and Public Works home occupant
Rental Statement from the Department
Habitat Gardens Partner
A current Rates Notice and
your Habitat Gardens welcome letter
Note:
A copy of a current Rates Notice is acceptable
Where a current Rates Notice is unable to be presented a Drivers Licence or Seniors Card showing the current residential address can be accepted
Nursery Opening Hours
Council nurseries are closed on Public Holidays.
Queens Park Nursery
Goleby Avenue, Ipswich
Wednesday and Thursday

7.30 am to 12.00 pm and

12.30 pm to 3.00 pm

Saturday
8.00 am to 12.00 pm
Goodna Nursery
Corner of Church Street and Queen Street, Goodna
Wednesday
8.00 am to 12.00 pm
Note: Please be aware that when collecting plants from Goodna Nursery the resident will only by supplied with a maximum six plants unless previous arrangements have been made with nursery staff. (This is due to the limited number of plants that can be stored on site.)
Purchasing Nursery Plants
You may not be aware but Ipswich residents are also able to purchase plants from the Queens Park Nursery, as long as proof of current residential location is confirmed at time of purchase (eg Drivers Licence). Customers from outside the city of Ipswich cannot purchase plants from the Council nursery.
Payment methods accepted are EFTPOS, Credit/Debit Card or Cash.
Mobile Nursery Schedule
If you haven't collected your plants from Queens Park or Goodna Nurseries, come along to the next mobile nursery to collect your six free plants. Please bring appropriate documentation as listed on this page.
Note: Please be aware that when collecting plants from the Mobile Nursery the resident will only be supplied with a maximum six plants unless previous arrangements have been made with nursery staff. (This is due to the limited number of plants that can be transported via the mobile nursery.)
Mobile Nursery Schedule 2019

Location

Date

Time

Brisbane River Terraces by Gateway Lifestyle, 213 Brisbane Tce, Goodna
Saturday, 16 February
8.00 am - 11.00 am
Brassall Shopping Centre (carpark), 68 Hunter St, Brassall
Saturday, 23 February
8.00 am - 11.00 am
Camira Community Centre, 389 Old Logan Rd, Camira
Saturday, 2 March
8.00 am - 11.00 am
Johnston Park, 61 John Street, Rosewood
Saturday, 9 March
8.00 am - 11.00 am
Grande Park, 40 Grande Avenue, Springfield Lakes
Saturday, 30 March
7.30 am - 11.00 am
Raceview Shopping Centre, 64 Raceview St, Raceview
Saturday, 6 April
8.00 am - 11.00 am
George Palmer Park (Mother's day tree planting), Sealy St, Silkstone
Sunday, 12 May
8.00 am - 11.00 am
East Ipswich Honour Playground, 129 Chermside Rd, East Ipswich
Saturday, 18 May
8.00 am - 11.00 am