Fire is recognised as a natural and essential requirement for the long-term health and viability of bushland and associated wildlife species in Ipswich. Managing fire in bushland areas is vital for the protection of surrounding homes, properties and structures and important in maintaining healthy, functioning ecosystems and habitats.
A key element of fire management is how both residents and Council prepare and manage their bushland areas in order to mitigate risks and aid in ecosystem and habitat management. To achieve this, Council and Ipswich residents must work together for the most effective approach - bushland fire management is very much a shared responsibility.
How does Council manage its bushland areas for fire?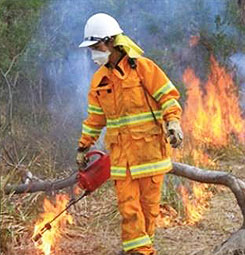 Council owns and manages approximately 6700 hectares of Natural Area Estate across the city including conservation/environmental estates, parks and reserves. Planned management activities are undertaken in a careful and proactive way to maintain the health of these areas and reduce the impact of wild fires. Activities include (but not limited to):
Carry-out prescribed burns on designated sites to lower fuel loads, reduce fire intensity and maintain ecosystem health
Closing of natural areas on total fire ban days and when fires are burning in surrounding landscapes
Implementation and maintenance of fire trails, signage and zones of protection
Removing and modifying vegetation through mechanical means such as slashing, manual removal, tree pruning etc.
Across the 10 locations that make up Ipswich's Natural Area Estate, undertaking prescribed burns is a key proactive management tool that may be used to achieve balanced outcomes.
Why undertake Prescribed Burns in the Natural Area Estate?
A prescribed burn is used to:
Reduce the amount of fire fuel in an area by slowly burning off undergrowth under controlled conditions
Assist in stimulating and promoting plants to regenerate and maintain healthy environmental conditions for the retention of ecosystems and biodiversity
Mitigate the risk of fire leaving or entering Council owned land (a legal responsibility as a land manager under the Queensland Fire Services Act 1995)
What is the bushfire risk for Council's Natural Area Estates?
Council utilises mapping resources to identify areas that have a potential bushfire hazard across these Reserves and Estates. This is combined with other on-ground assessments to identify the risk. This information is used to inform an overarching and streamlined strategic plan that addresses the way the Natural Area Estate is to be managed for fire.
High risk areas are prioritised for prescribed hazard reduction burns or other treatments designed to reduce the amount or structure of fuel loads.
What areas does Council plan to burn?
Table 1 below provides information regarding burns planned within Ipswich's Natural Area Estate. Estates or Reserves (or parts of) subject to prescribed burns, are closed to the public immediately prior to, during and for a period of up to two weeks after the burn. These areas cannot be booked or used during this time and will be re-opened, where applicable, when deemed to be safe for the public. The general public are advised to keep away from burn sites during this time in order to allow them to recover.
During the prescribed burns, smoke may be visible from local streets and areas some distance from the sites.
Location of Burn

(Estate/Reserve)

Suburb/ Locality

Site Location

Site Map

Area (ha)

Timing

Current

Estate Status

White Rock - Spring Mountain Conservation Estate

Spring Mountain

1km west of Woodline Drive

(Ref: Site 3)

13

Completed

Open

Proximity of Silvertop Crescent, Angelica Avenue & Balm Avenue

(Ref: Site 4)

5

Completed

Open

Mount Grandchester Conservation Estate

Woolshed

Proximity of Heise Road

(Ref: Site 9)

25

Completed

Open (access by permit only)
Table 1: Proposed prescribed burn locations for Council's Natural Area Estate.
How are prescribed burns managed?
Council takes a six step approach to prescribed burns:
Site Prioritisation
Prioritised burn sites are identified through a strategic approach that considers factors such as (but not limited to) wildfire risk, fuel loads, fire history and fire containment infrastructure.
Permits
A Permit to Light application is lodged with the Rural Fire Service (RFS).
Notification
The community is notified regarding prescribed burn plans a minimum of 72 hours prior.
Weather forecasts
Weather forecasts are monitored to determine the most suitable day to implement the prescribed burn as per the permit.
Estate/Reserve Closures
Estates or Reserves(or parts of), are closed and the prescribed burn is implemented.
Completion
Prescribed burn is extinguished and cleaned up and the Estate or Reserve (or part of), is re-opened
Part of managing a prescribed burn includes collaborating with subject area experts. Council works closely with Queensland Fire and Rescue Service (QFRS) and the Rural Fire Service (RFS) in relation to joint planning initiatives, wildfire response and on-going support for public fire awareness education.
Council also supports organisations such as the SEQ Fire and Biodiversity Consortium. This regional working group partners with a range of government and academic institutions to research and implement improved fire management practices.
When does Council plan to burn these sites?
Council proposes to implement prescribed burns primarily during the cooler months of April through to September. This is generally when ground and weather conditions are most suitable for cooler, controlled burns. This timeframe can be extended if favourable seasonal conditions allow.
The right combination of weather (i.e. wind speed and direction, relative humidity and temperature) and on-ground conditions will determine target date/s. Prescribed burns postponed due to unsuitable conditions will be rescheduled to a later date.
How will Council notify the public when a prescribed burn is scheduled?
Council will keep the community informed of prescribed burns by:
Sending notification letters to individual residents in a 1km radius of a prescribed burn site
Onsite signage notifying the public of when prescribed burns are scheduled
Council's Facebook page and website will be used to provide wider reaching communication and list the current status of the fire and/or Estate or Reserve access
Media releases through local papers and/or public notices
Text and/or email notification to registered parties "My Ipswich Alerts" users. This service is FREE.
When will the community be notified regarding prescribed burns?
Notifications will be dependent on when the prescribed burns are implemented. Generally, residents in a 1km radius will receive initial notification two to four weeks out from the scheduled prescribed burn.
How can you prepare for a prescribed burn in your local area?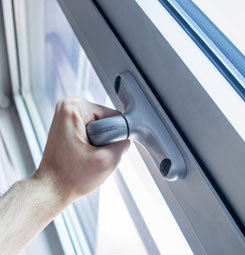 Living in or near bushland poses some level of risk from bushfire. The Queensland Fire and Emergency Services (QFES), as the lead agency responsible for informing the public about bushfire safety, have detailed information on their website on bushfire preparedness.
All attempts will be made to limit any smoke, dust, stray ember and other hazards as works are undertaken. Unfortunately, ideal weather conditions for conducting these prescribed burns can also mean that the smoke is not always dispersed well.
With this in mind there are a number of steps you can take to prepare yourself and your property to reduce impacts:
Keep doors and windows closed to prevent smoke entering your home
Remove washing from clothes line
Limit outdoor activities if smoke is a nuisance
If you suffer respiratory or other health conditions, keep medication close by, seek medical advice and reduce outdoor activities if smoke is present
Drive to conditions and use extra caution
Residents adjoining prescrib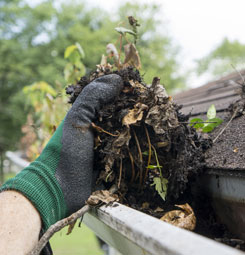 ed burn sites should also:
Ensure pets or livestock have a safe area to shelter
Place outdoor furniture undercover
Retract pool covers
Clear roofs, gutters and yards of flammable material such as leaves
As a private landowner, residents are responsible for maintaining their own property safety and preparedness for fire. The level of fire management required will vary greatly dependent on size and location of the property and the types of vegetation present.
How does Council minimise impact on local Wildlife?
The direct effects of fire on wildlife are closely related to mobility. Birds and other flying animals can relatively easily escape fire while some species avoid the fire by leaving the area or by taking shelter (e.g. under rocks, in waterways or in hollow logs). The low intensity and inherent patchiness of prescribed burns provides wildlife with opportunities to escape into unburned areas or take shelter.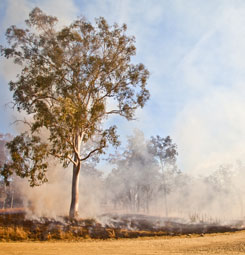 The effects of fire on native fauna are not necessarily negative. Fire can affect animals indirectly through its effects on vegetation and other habitat features. Nesting hollows can be created by fire. Reshooting vegetation provides 'green pick' for herbivores such as kangaroos, wallabies and insects. Increased levels of flowering and seeding follow fire as well as denser and more diverse vegetation as rejuvenated species compete for light and released nutrients.
In long-unburned locations, aging vegetation may lose its productivity and some species move elsewhere while plants which depend on fire to set seed may perish.
To minimise impact on wildlife during a prescribed burn, Council:
Leaves areas of bushland untouched for wildlife to use as a refuge and to help re-establish vegetation in the burnt sections (i.e. patchiness)
Excludes sensitive wildlife habitat from prescribed burns
Carries out prescribed burns in cooler times, using slower and less intense burn activity with lower flames. This provides an opportunity for wildlife to move out of the area temporarily and escape to unburnt patches
Inspects sites prior to prescribed burns for wildlife and clears around large fallen timber, hollow bearing trees and important habitat features
Who should I contact for further information?
If there is an emergency situation relating to the fire please dial 000
For resources and publications regarding being bushfire prepared, visit:
For information regarding Council's Prescribed Burn Program or associated Estate or Reserve closures call (07) 3810 6666 or email: council@ipswich.qld.gov.au
Property owners with bushland can also email council@ipswich.qld.gov.au to enquire about access to Conservation Partnership Program opportunities including fire and property management planning.
Images on this page supplied courtesy of South East Queensland Fire and Biodiversity Consortium, photographers include G.Leah and C. Welden.