Did you know glass bottles and jars are 100% recyclable? Don't let a good thing go to waste.
That is why we want to separate glass bottles and jars from the yellow-top bins to make it better to recycle. Glass is one of the few packaging products that can be reused and recycled repeatedly without any loss in quality. Using recycled glass to make new bottles and jars uses fewer raw materials and reduces carbon emissions.
Taking glass out of the kerbside yellow-top bin recycling service makes the remaining materials more valuable. Paper, plastic, cardboard, cans and tins contaminated by glass fines are more difficult to recycle and have a lower value when sold for manufacturing than clean, uncontaminated material.
As glass is made from only three natural ingredients – sand, limestone and soda ash – it doesn't break down into harmful chemicals, making glass the most earth, ocean and animal-friendly packaging option.
How is glass recycled?
Council is committed to investigating and implementing innovative waste and recycling services and has proudly partnered with the world's leading glass recycling company Owens-Illinois (O-I). The company collects empty glass bottles and jars from designated glass recycling stations in Ipswich and processes the used glass into brand new bottles and jars.
Closed loop recycling system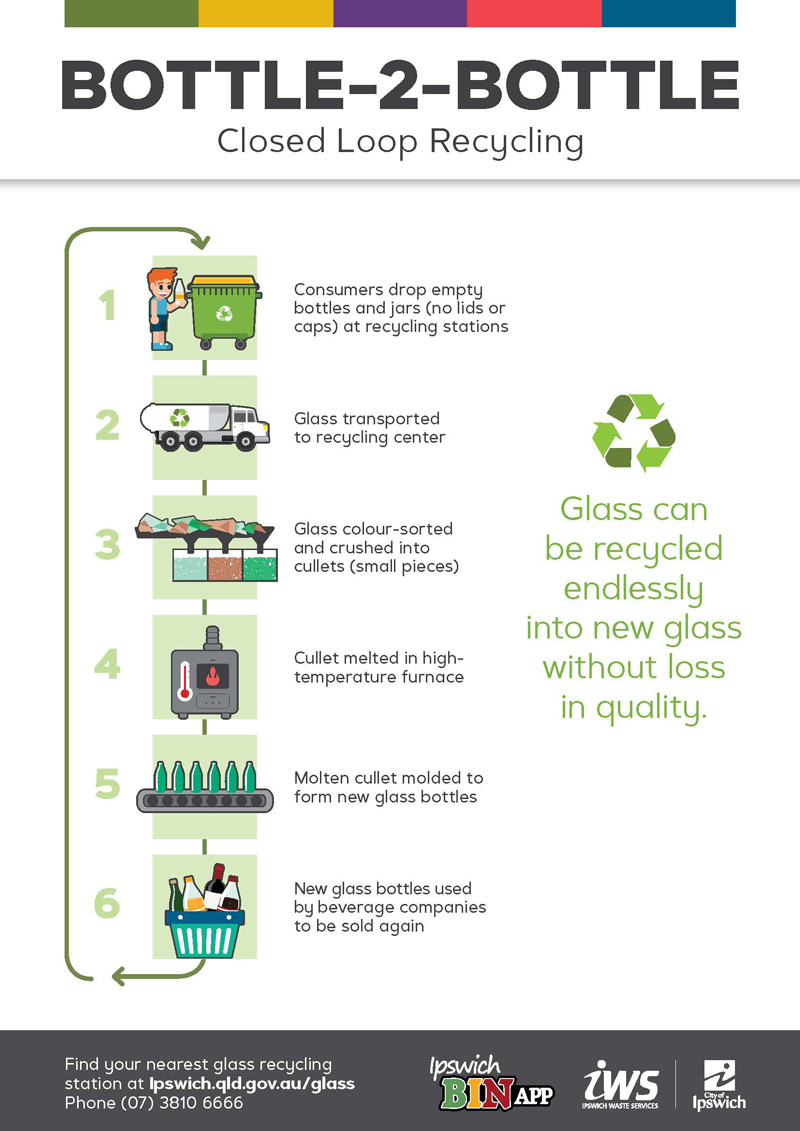 Glass disposal
Disposing of glass correctly ensures that it can be recycled and reused over and over again – infinitely.
Glass bottles and jars can be dropped off at one of Council's glass collection points (listed below).
Do not place glass in your yellow-top recycle bin, as even a small bit of broken glass can contaminate all other recyclables.
As a last resort, if you are not able to drop your glass items at one of Council's glass collection points, place your glass bottles and jars (cleaned, with lids removed) in your red-top general waste bin.
Give bottles and jars a light clean if necessary and remove lids (plastic or metal lids can go in your yellow-top recycle bin) and any plastic/metal rings or tabs.
Recyclable vs. non-recyclable glass
Not all types of glass are accepted for recycling. In order to keep recyclable glass pure, it's important that you don't mix non-recyclable and recyclable glass types at Council's glass collection points:
Recyclable glass includes: clear and coloured glass bottles and jars of all sizes are recyclable – including beer, wine and soft-drink bottles, food and vitamin jars.
Non-recyclable glass includes: drinking glasses, window glass, light bulbs, car windscreens, mirrors, ceramics, china and oven-proof and
heat-treated glass (e.g. Pyrex). Dispose of these by wrapping in newspaper and placing in your red-top bin.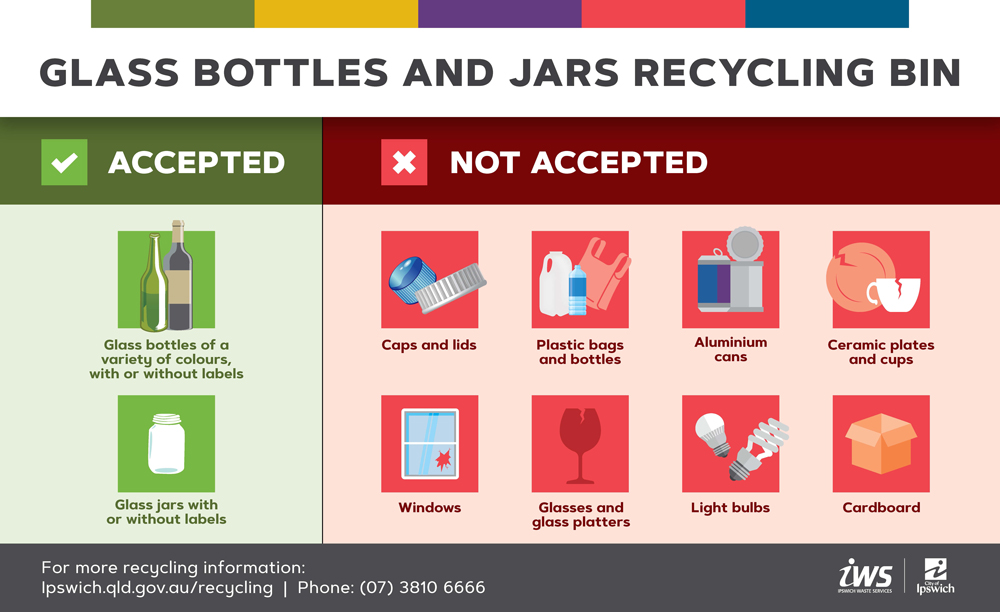 Glass collection points
Council has allocated the below locations as glass collection stations and continues to investigate further convenient locations across Ipswich. Council will update this website with these locations as they become available.
Current Glass Collection Points Ipswich

BRASSALL
Battye Park Carpark
Hunter Street, Brassall

CHURCHILL
Lobley Park
Warwick Road, Churchill

RIVERVIEW
Riverview Recycling and Refuse Centre
81 Riverview Road, Riverview

ROSEWOOD
Rosewood Recycling and Refuse Centre
94 Oakleigh Colliery Road, Rosewood
More information
Bottle-2-Bottle Infographic (PDF, 307.4 KB)
Glass Bottle and Jar Recyling Infographic (PDF, 409.2 KB)
Recycling services
Household waste services
Green waste services
Ipswich Bin App
Media releases