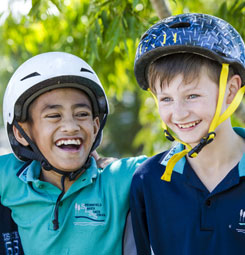 Transport plays a fundamental part of our daily lives. In a rapidly growing city, getting transport right is the foundation for jobs growth and protecting our lifestyle.
Ipswich City Council has developed the City of Ipswich Transport Plan (iGO) that outlines Council's aspirations to advance Ipswich's transport system and to guide future transport policy, resourcing and investment decision making.
The draft iGO was publicly released in late 2015 and has now been finalised based on feedback received from the community and other key stakeholders.
Key Outcomes
Facilitating travel mode choices
Reducing Ipswich residents' dependency on their cars by facilitating competitive, attractive and sustainable travel mode choices through the provision of quality transport infrastructure and incentives/disincentives.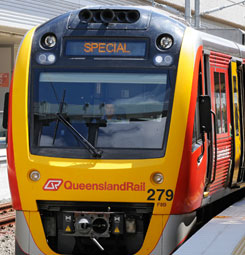 Transport and land use
Fostering the development of strong, compact and connected mixed use activity centres and complete communities.
Culture shift
Clever new thinking and strong leadership to make sustainable decisions. This includes new non-traditional attitudes such as:
Promoting travel behaviour changes for certain trips
Taking a demand management (as opposed to demand satisfaction) approach to car use, parking, road network performance and traffic congestion
Balancing the needs of all users in the design and management of roads
The development and uptake of new transport-related technology
Influencing institutional frameworks (i.e. employee core work hours and locations)
Using innovation regarding the cost, affordability, funding and financing of new infrastructure
Key Short Term Actions
iGO is a strategic long-term plan with a range of policy focus areas, network maps and actions. The outcomes of iGO will be delivered over the coming years to shape a sustainable transport future for Ipswich.
In the near future, Council will develop more detailed Network Action Plans and Operational Strategies. First up will be the Active Transport Action Plan that will focus on transport projects and initiatives to encourage more people to walk and cycle.
Other key short-term actions outlined in iGO include:
Advocate for the extension of the railway line from Springfield Central to Redbank Plains
Complete the Brassall Bikeway (to link with Ipswich CBD via Riverlink and the Bradfield Bridge)
Plan and deliver the Goodna and Deebing Creek bikeway projects
Prepare a business case for the Norman Street Bridge (to assist with securing funding for its construction)
Expand the Healthy Active School Travel (HAST) Program across the city
Support the planning, design and delivery of the Inland Rail Project through southern Ipswich
Develop and implement a 10 Year Transport Infrastructure Investment Plan, including the delivery of the following capacity and safety roadworks within the next five years:

Brisbane Street (West Ipswich)
Marsden Parade - Gordon Street Link (Ipswich Central)
Old Toowoomba Road (One Mile / Leichhardt)
Redbank Plains Road (Bellbird Park / Redbank Plains)
Springfield - Greenbank Arterial (Springfield / Springfield Central)
Contact details
Phone: 07 3810 6666
Email: igoipswich@ipswich.qld.gov.au
Postal:
iGO Project Team
Infrastructure Planning Branch
Ipswich City Council
PO Box 191
Ipswich QLD 4305
More Information