In order to meet the growing travel demands of Ipswich and achieve a better quality of life for the community, Council recognised that greater emphasis must be given to promoting and realising the opportunities and benefits associated with more sustainable forms of travel such as active transport (e.g. walking and cycling).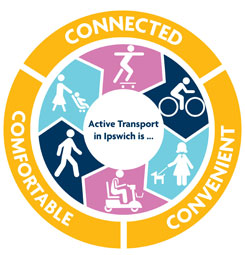 As a result, Ipswich City Council has developed an Active Transport Action Plan (a key action of iGO, the City of Ipswich Transport Plan) to guide the planning, delivery and promotion of facilities and programs to encourage more people to walk and cycle for transport purposes in Ipswich.
Focused consultation was undertaken with the Ipswich community via an online community survey in early 2016 and this has helped to shape a realistic action plan and vision, this being: 'Active Transport in Ipswich is Connected, Convenient and Comfortable'.
Key deliverables of the plan include:
Baseline data on the current state of walking and cycling in Ipswich;
An existing Ipswich resident walker and cyclists market profile;
Identification of an active transport vision and objectives;
Cycle and pedestrian network hierarchies (including desirable management characteristics for each category of the hierarchy);
Maps of the pedestrian and cycle networks;
Actions to advance the three iGO active transport policy areas;
Identifications of priorities for delivery; and
Identification of mechanisms to monitor the performance of the action plan.
Signature Projects from the plan include the:
Planning, design and construction of identified pedestrian and cycle network priorities;
Trial and measure of 'pop up' pedestrian and cycle infrastructure;
Development and implementation of a Wayfinding Strategy;
Planting of shade trees along pedestrian and cycle paths;
Undertaking an 'Active Towns' style program (involving targeted infrastructure and promotion) on a suburb by suburb basis;
Preparation and implementation of a Social Media Strategy;
Provision of information on safe walk and cycle practices and existing walk and cycle maps; and
Development of a smart phone app and website app that enables users to choose routes to walk and cycle in the city based on a number of varying factors (e.g. topography, availability of paths, traffic volumes etc).
More Information:
iGO Active Transport Action Plan Newsletter (PDF, 1.5 MB)
iGO Active Transport Action Plan Summary Report (PDF, 10.1 MB)
iGO Active Transport Action Plan Technical Report (PDF, 16.0 MB)