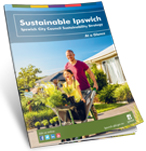 This strategy is about managing the growth of our city by working together with the community, industry and other levels of government to protect and enhance our environment and its liveability for current and future generations.
The Sustainability Strategy outlines new sustainability initiatives (with some already in action) to build capacity within the community and to bring awareness, shared stories and practical knowledge to our residents. It also outlines targets to be delivered by 2021.
Get Involved
Sustainability requires a whole city approach that takes into account the support of and input from the community, other levels of government and the private sector. The Council-established Sustainability Advisory Group is seeking written submissions from the community, education and private sectors and other levels of government to assist us in achieving our sustainability objective. These submissions provide an opportunity for everyone to be involved in our sustainability journey.
Written submissions can be provided to Ipswich City Council via email, post or by hand to one of the three addresses below and should be marked for the attention of the Sustainability Advisory Group:
Email: Council@ipswich.qld.gov.au
Post: PO Box 191, Ipswich QLD 4305
By Hand: Customer Contact Centre, 143 Brisbane Street, Ipswich
Planning and Development Counter, Ground floor, 45 Roderick Street, Ipswich
The Mayor's Office, Level 2, 45 Roderick Street, Ipswich
For more information on the Sustainability Advisory Group and how to get involved, please refer to the Sustainability Strategy (PDF, 1.7 MB).