From 1 September 2016, smoking was banned in outdoor pedestrian malls in Queensland under the Queensland Government's Tobacco and Other Smoking Products Act 1998. The smoking ban includes the use of all smoking products, including regular cigarettes and electronic cigarettes.The public areas shown in the adjacent map and listed below are designated (and marked as such with non-smoking signage) non-smoking areas: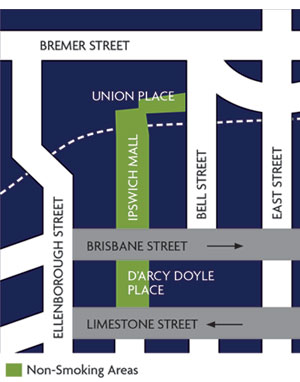 d'Arcy Doyle Place
Ipswich Mall
Union Place
Within 5m of any taxi rank zone, sign, seat, shelter or queue associated with taxi ranks
Within 5m of any bus stop sign, zone, seat, shelter or queue associated with bus stops.
Council enforcement
Ipswich City Council officers are authorised to carry out enforcement in the above smoke-free areas and are assisted by Queensland Police. Council officers may issue a Penalty Infringement Notice (PIN) when engagement is ineffective or if a person has received two prior warnings, being a verbal direction to cease and a formal warning notice.
Council officers cannot issue fines or notices after the event - they must be present when the breach occurs. However, Council will obtain details of possible breaches and the locations in question will then be investigated by officers during their next proactive patrol.
Penalties
The PIN is 2 penalty units. If the matter proceeds to a court hearing, the court may award a maximum of 20 penalty units plus costs.
State government enforcement
The state government also enforces other non-smoking laws under the Tobacco and Other Smoking Products Act 1998. Visit the Queensland Health website to see the list of non-smoking public places that are enforced.
Complaints
Should you wish to lodge a complaint regarding smoking at a pedestrian mall or public transport waiting point, visit Council's Complaints webpage and follow Council's complaints process.
More information
For more information on tobacco laws and enforcement in Queensland visit the Queensland Health website or phone 13 74 68.