Smoking is banned in outdoor pedestrian malls in Queensland under the Queensland Government's Tobacco and Other Smoking Products Act 1998. The smoking ban includes the use of all smoking products, including regular cigarettes and electronic cigarettes.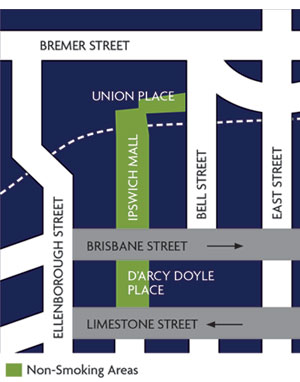 Ipswich City Council manages smoking bans in the following non-smoking areas:
d'Arcy Doyle Place
Ipswich Mall
Union Place
within five metres of any taxi rank zone, sign, seat, shelter or queue associated with taxi ranks
within five metres of any bus stop sign, zone, seat, shelter or queue associated with bus stops.
How can I make a complaint about smoking?
Before you proceed with lodging a complaint, please refer to the below question to see if Council is the appropriate contact for your issue.
Is your complaint in relation to an area other than the Ipswich Mall, an Ipswich Bus Stop or an Ipswich Taxi Rank?
If you answered yes, please contact Queensland Health or phone 13 74 68.
If you answered no to the question listed above, please follow the below steps to lodge your complaint with Council. Have the following information ready:
details of the source and nature of the issue
where the issue is coming from and how it is affecting you
specific information on how often the issue is happening e.g. what time and on what day/s
Contact Council by one of the methods below:
Resources